April 30, 2023 9:05 AM | 2 min read
Direxion Daily Semiconductor Bull 3X Shares (NYSE:SOXL) rebounded over 5% higher last Friday to close the trading session above the 200-day simple moving average (SMA).
Although the semiconductor sector has seen a steep drop since March 31, SOXL's recent reversal could provide a solid trade for investors with a high risk-reward appetite. SOXL is a triple-leveraged fund that consists of a variety of stocks in the semiconductor sector. Advanced Micro Devices, Inc (NASDAQ:AMD) makes up 7.03% of the fund, while NVIDIA Corporation (NASDAQ:NVDA) is weighted at 8.81%.
Tech stocks, including chipmaker stocks, have enjoyed bullish price action recently, matching the positive movements seen in the general markets. On Friday, the S&P 500 broke through heavy resistance near $414, suggesting that the stock market could be headed higher.
ENTER TO WIN $500 IN STOCK OR CRYPTO
Enter your email and you'll also get Benzinga's ultimate morning update AND a free $30 gift card and more!
Traders who are bearish on the semiconductor sector can track the Direxion Daily Semiconductor Bear 3X Shares (NYSE:SOXS).
Want direct analysis? Find me in the BZ Pro lounge! Click here for a free trial.
Options 101: The Beginner's Guide
Want to become an options master? In his free report, options expert Nic Chahine will give you access to the four bulletproof tips for beginners, the secret to scoring 511% gains with options, and his time-tested "plan" for success. Grab your free copy of Options 101: The Beginner's Guide ASAP.
The SOXL Chart: After printing a bullish hammer candlestick pattern on Thursday, SOXL shot higher on Friday to close near the high-of-day, suggesting higher prices could come on Monday.
The ETF, however, could also trade sideways and print an inside-bar pattern on Monday, which would lean bullish for continuation. Eventually, SOXL would have to retrace to print at least a higher low, which would confirm a new uptrend and provide a possible solid entry point for traders who aren't already in the position.
When SOXL eventually retraces lower, the stock may find support at the 200-day SMA. Traders can then wait for the ETF to print a possible reversal candlestick pattern, such as a doji candle or hammer candlestick pattern, above the area. If SOXL drops below that level, however, bearish traders may gain control.
SOXL has resistance above $16 and $17.66 and support below $14.09 and $12.13.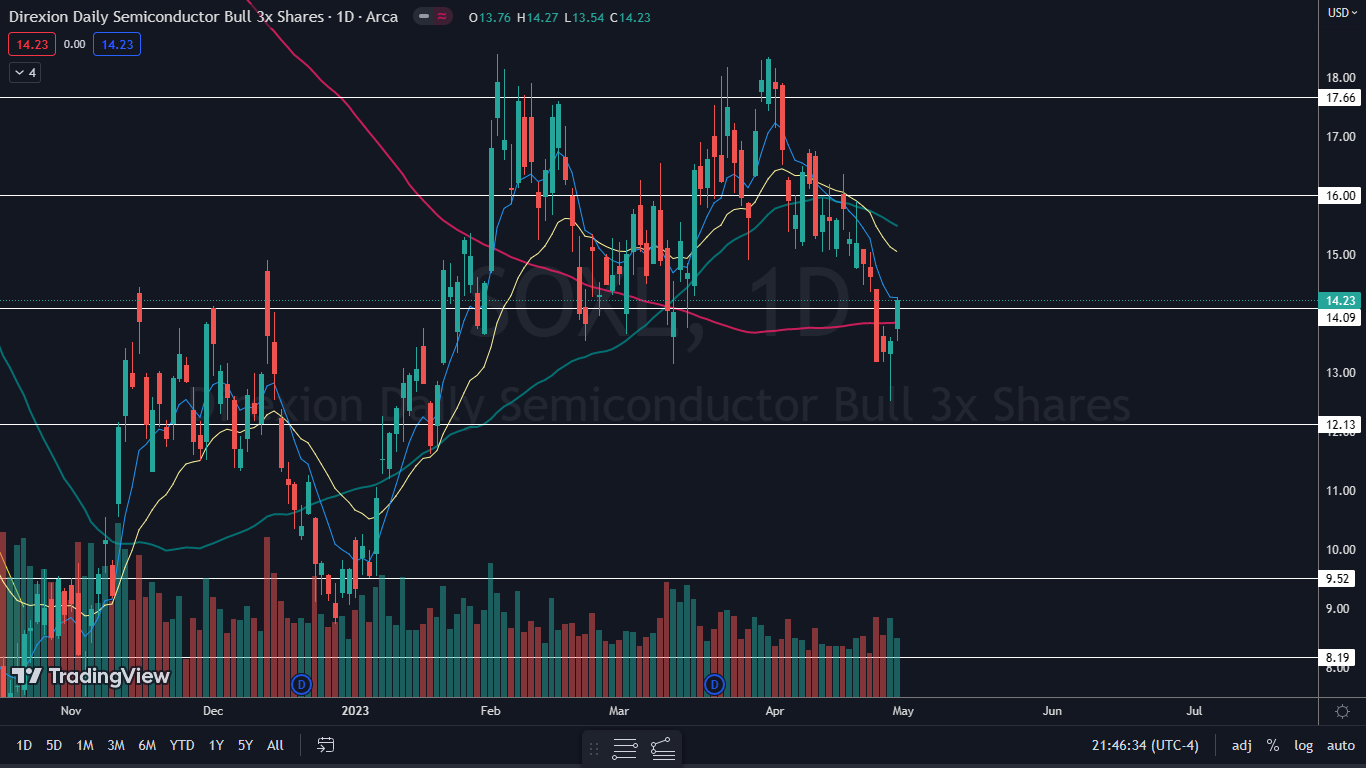 Read Next: Is The SPY Headed For A Bull Cycle? This Fund Offers 3X Leverage: Quick Take Technical Analysis
© 2023 Benzinga.com. Benzinga does not provide investment advice. All rights reserved.