Even the most financially savvy accountants can use a side hustle.
Between a median student debt of over $20,000 and the rising cost of … well, everything … it's only natural for accountants to start looking for ways to earn extra money.
Whether you're looking to pad your savings account, pay off debt, or simply boost your income, there are lots of great side hustles for accountants.
In this article, I'll share my top picks.
Ready? Let's do it!
1. Bookkeeping Service
With your accounting background, a bookkeeping side hustle is worth a look.
Virtual bookkeepers like Kate Johnson can earn $60 an hour or more. Your experience and credentials will help set you apart in an industry where there are no formal certifications required to call yourself a bookkeeper.
Kate emphasized the importance familiarizing yourself in the bookkeeping software of choice.
Here's a free preview of the course she "credits" (pun intended!) with helping her get started.
2. Tutoring
For many students, accounting is a dreaded subject! With your expertise, you could start a tutoring business to help them out.
Platforms like WyzAnt connect students with tutors, with rates ranging from $40-100 an hour.
Or you could develop relationships with guidance counselors and become a trusted referral. For example, Matt Fuentes specializes in college admissions test prep and routinely earns $90-100 an hour from home.
3. Tax Prep Service
As an accountant, people probably already turn to you with tax questions — even if you're not that kind of accountant.
Still, you can take that perceived authority and expertise and help people with their tax returns.
This was my mother-in-law's side hustle for years. The extra income helped her support her family and pay off her mortgage early.
Per The College Investor, 38% of families hire an accountant or service like H&R Block to do their taxes. Depending on the complexity of the return, rates range from $250 to $1,000 or more.
4. E-Commerce Store
E-commerce comes in a lot of different flavors, but one model to consider is "high ticket" drop shipping.
In broad strokes, drop shipping is where you sell a product on behalf of a manufacturer or supplier but don't touch the inventory. When you make a sale, they ship it to the customer on your behalf, so you don't have the inventory risk of having purchased it on speculation up front. You don't have the storage and shipping logistics either.
When I connected with Ben Knegendorf, he shared some potential niche selection criteria:
Your core products should cost over $800
There should be at least 5-10 suppliers
The products should be "nice to haves" — not everyday essentials
You should love serving your target customer
This business model does take a lot of work upfront to develop the storefront and build supplier relationships, but it's viable nonetheless.
One thing to consider though is how you'll differentiate yourself from other drop shippers selling the same product from the same suppliers at the same price. To learn more, check out this guide from DropshipBreakthru.
Fun fact: Phil Knight started Nike as a side hustle to his accounting job!
5. Real Estate Investing
Real estate investing is one of the oldest and most popular side hustles in the books. My accountant friend loves to analyze property deals, and ultimately bought a couple dozen rentals.
The downside is houses are expensive!
Thankfully, new platforms like Arrived make it easy to invest in income-generating properties—with as little as $100. 
The company pools money to buy rental properties, manages them, and then distributes the cash flow every month.
That means you can enjoy the benefits owning property, while spreading the risk around. (And without having to handle vacancies, maintenance, or tenant issues yourself!)
6. Online Arbitrage
An analytical mind and a love of the numbers makes the side hustle of online arbitrage a good fit for accountants.
In this business, you buy low from other websites, and sell higher (usually) on Amazon.
I connected with Chris Grant on The Side Hustle Show, who broke down how this works and what it takes to get started. (And how he sells $75,000 a month worth of stuff online!)
7. Mobile Notary Service
Thanks to your attention to detail, accountants make great mobile notaries. Mobile notary loan signing agents travel to borrower's homes and walk them through their new mortgage documents.
This gig often pays $50-150 per appointment, and it makes a great side hustle because appointments are often in the evenings. (Banks like to lend to people who have jobs during the day!)
Some members of the Side Hustle Nation community have reported earning up to $8,000 a month in their mobile notary business.
8. Content Business
My buddy Pete McPherson is an accountant turned blogging pro. He runs a portfolio of helpful content sites in addition to the popular Do You Even Blog.
There's a lot to learn when it comes to building a website and search engine optimization, but it can be a super lucrative side hustle. Top bloggers earn $10,000 a month or more.
Starting out, focus on informational articles that answer specific reader questions. As you build out your library of content, you can ultimately monetize with display ads, affiliate partnerships, or your own products and services.
9. Virtual CFO Service
Shannon Weinstein, CPA, started a virtual fractional CFO service on the side from her day job. By the time she quit to pursue it full-time, it was already a multi-6-figure business!
Her primary marketing channels were Instagram and her Keep What You Earn podcast. Both focused on short, insightful answers to common tax questions.
By positioning herself as the expert, it wasn't long before followers and listeners started reaching out to hire her for tax strategy help.
10. Software Tutorials
Is there an accounting tool you absolutely love? Do people always ask you questions about it?
One of my favorite side hustles is turning that expertise into content, especially on YouTube.
For example, Mark Smolen is "The Quickbooks Dude" on YouTube, and his channel has over 33k subscribers. On top of earning advertising money from his videos, he sells a host of paid online courses through his website.
When I search terms like "quickbooks for landlords", Mark's videos rank highly in the search results.
YouTube is a great way to showcase your expertise and connect with potential customers.
11. Freelance Writing
"Publish or perish" doesn't apply just to academics — it's true for online content as well. Online media brands, FinTech companies, and other websites regularly pay freelance writers to create fresh content for them.
Many of these companies are looking for writers with accounting experience. (The authority and expertise of the author matters to Google!)
As your writing portfolio grows, you can command higher rates. For example, Paul Maplesden has been a full-time freelancer writer on accounting and business topics since 2015, and commands rates of $380+ per article!
12. Online Market Research
Companies and brands are often looking for feedback on upcoming products, and will pay you for it. I've done several paid online research studies, and even a couple in-person focus groups.
These are actually a lot of fun and often pay in the $60-100 an hour range. Professionals like accountants are in-demand for industry-specific studies.
One of my go-to sources for these gigs is User Interviews.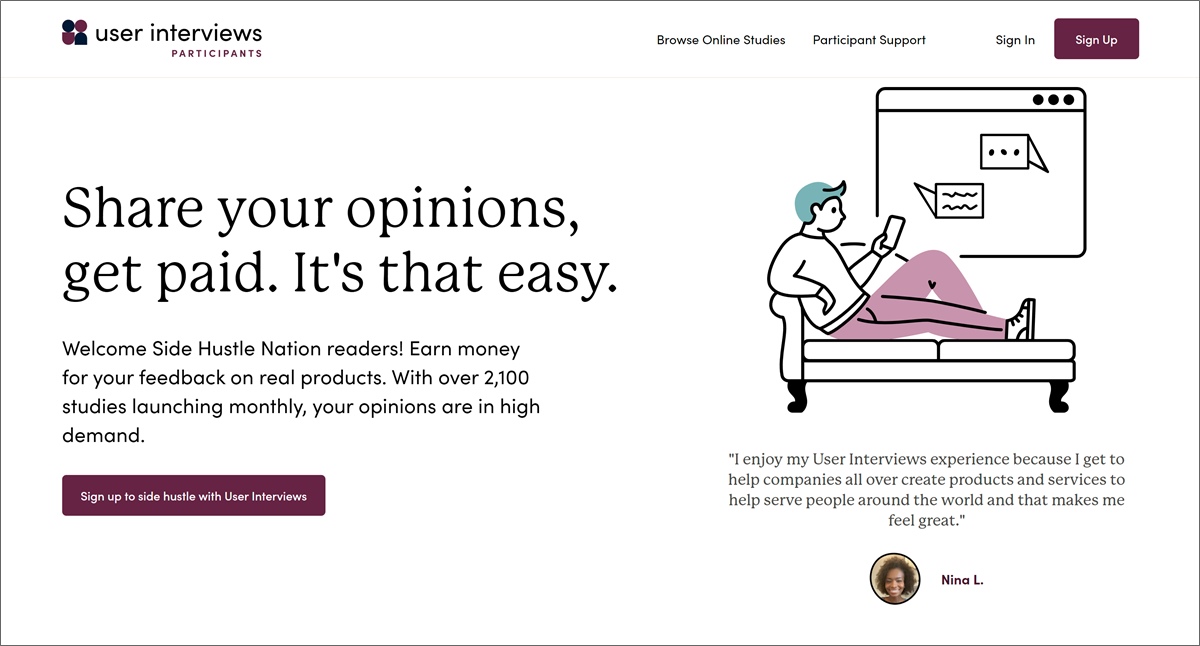 Check out our full User Interviews review to learn more.
13. Selling Spreadsheets
Did you know people buy spreadsheet templates online? Emily McDermott focuses on selling budgeting spreadsheets in Excel and Google Sheets — and sold over $250k worth in her first couple years!
As an accountant, you may already have half a dozen spreadsheets on your computer that others might pay for. Turn to platforms like Etsy to find your first customers.
14. Financial Coaching
When it comes to money, common sense is shockingly rare. That means there's an opportunity for level-headed accountants to provide financial coaching services to individuals and small businesses.
For example, Sylvia Inks focuses on small businesses and helps them with their budgeting, cash flow, and overall profitability.
When we spoke, she connected with clients through:
Local networking events
Public speaking opportunities
Potential customers finding her book on Amazon
15. Podcasting
Brad Barrett is a CPA who co-founded ChooseFI, a popular podcast in the FIRE (financial independence, retire early) community. The show takes a holistic view of personal finance and covers:
Saving and investing
Careers
Travel hacking
Taxes
Insurance
and more
Podcasting is an affordable side hustle for accountants to start, and can grow into a substantial business. As listenership grows, podcasts monetize with sponsorships, affiliate partnerships, and sales of products and services.
16. Part-Time Remote Work
FlexJobs is the leading work from home jobs site.
When I searched "accounting" and filtered to part-time, I found over 250 job postings. To me that makes sense as many companies aren't big enough to justify a full-time accountant, but still could use some professional in-house help.
FlexJobs does charge a nominal monthly fee to access their listings, but you'll easily earn it back (and then some!) with one job. Save 30% w/ promo code FLEXLIFE.
17. Buy a Business
If reviewing income statements and balance sheets is your idea of a good time, you might have a leg up when it comes to buying a business.
The advantage of buying a business that's already successful is you hopefully remove much of the risk of starting something from scratch.
Plus, you may be able to apply your expertise to improve the business once it's yours. For example, Jono Santamaria bought a laundromat and quickly tripled the revenue by:
Adding cashless payment options
Improving the business's online presence
Raising prices and adding additional services
And while he did make some material investments in the facility, he was able to finance the majority of the purchase price.
18. Credit Card Rewards
Credit card rewards aren't a side hustle in the pure entrepreneurial sense of the term, but can still be an easy way for accountants to make extra money.
Banks are hungry for new customers and dish out big sign-up bonuses — in the form of free cash and travel. Since you're responsible with money and won't spend more than you can afford, these bonuses are an easy win.
The Next Step: Check out my free course, Credit Card Rewards 101: How to Earn Free Cash and Travel by Spending Smarter
What's the Best Side Hustle for Accountants?
Like most things, the best side hustle for accountants depends on your interests and long-term goals.
Some accountants hate the idea of spending their free time thinking about credits and debits — in which case, a bookkeeping side hustle would be a horrible idea!
Still, I'm confident you'll draw some inspiration from this list and be able to choose a side hustle that's right for you. Cheers!