The Arbitrum (ARB) price has retraced in line with the market-wide correction over the past few days, falling close to a critical support level. In the current environment, altcoins in general continue to show weakness across the board. However, one altcoin that is exhibiting relative strength, backed by on-chain activity, is ARB.
Arbitrum is an optimistic L2 rollup with the main purpose of helping Ethereum scale by enabling L2 transactions with much faster confirmation time. The project has established itself as one of the top names in decentralized finance (DeFi) in recent months. Remarkably, it also houses the most popular perpetual DEX with GMX.
ARB Price Shows Relative Strength
A look at the ARB/BTC chart (2-hour chart) shows that the altcoin has formed an uptrend in recent days. The ascending triangle has its resistance line at 0.00004737. If ARB writes further higher lows against BTC despite the generally pressured altcoins market, it could ultimately break through the resistance and rally towards 0.00004850.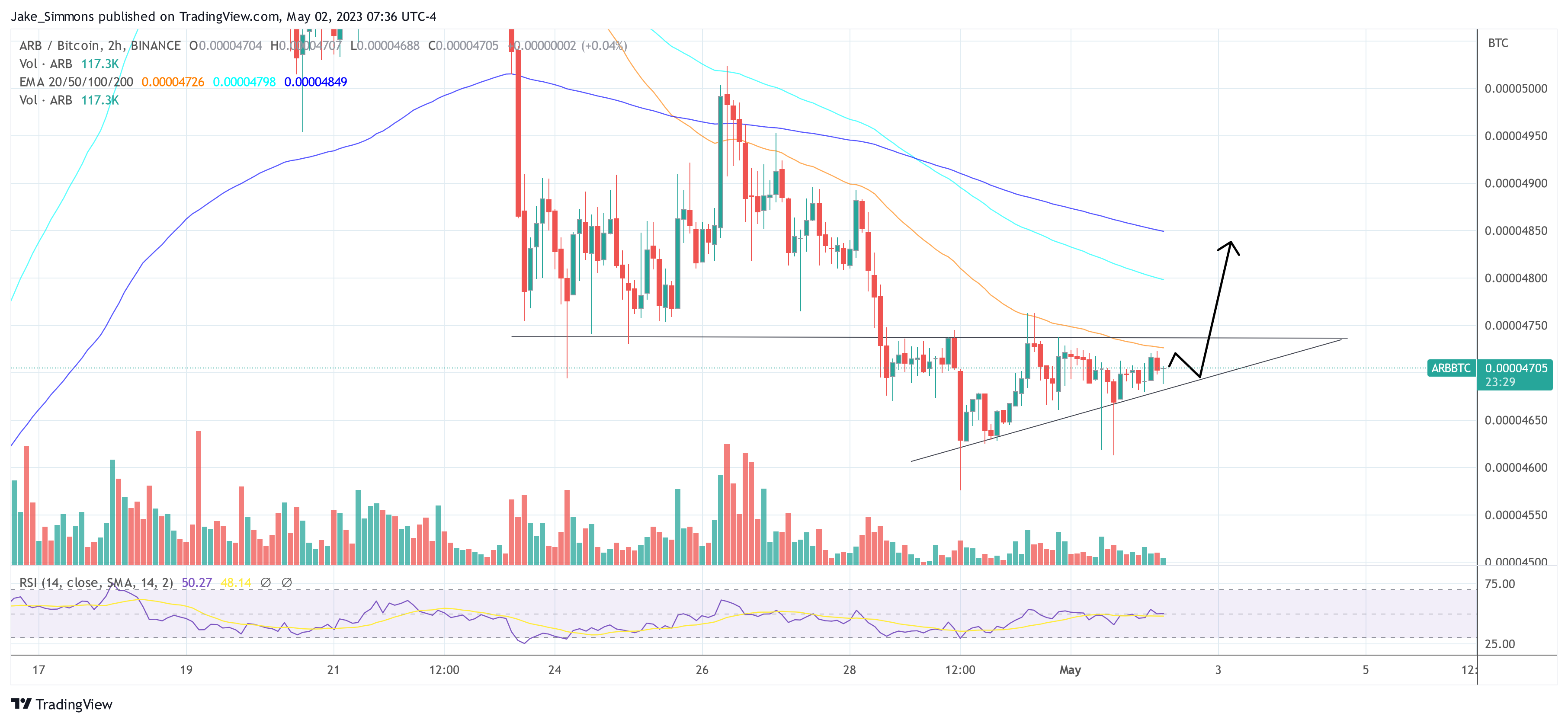 The 4-hour chart ARB/USDT reveals that Arbitrum is currently holding just above the most crucial support level at $1.29. If the price level is breached to the downside, the $1.20 to $1.24 range would be key.
To the upside, the key resistance is at $1.42. However, on the way up the 200-day EMA, currently sitting at $1.35, could also provide some minor headwinds. Fueled by a Bitcoin rally, however, the resistance at $1.42 seems within reach without further ado. Should BTC break above $30,000, ARB bulls could even target a move up to $1.56.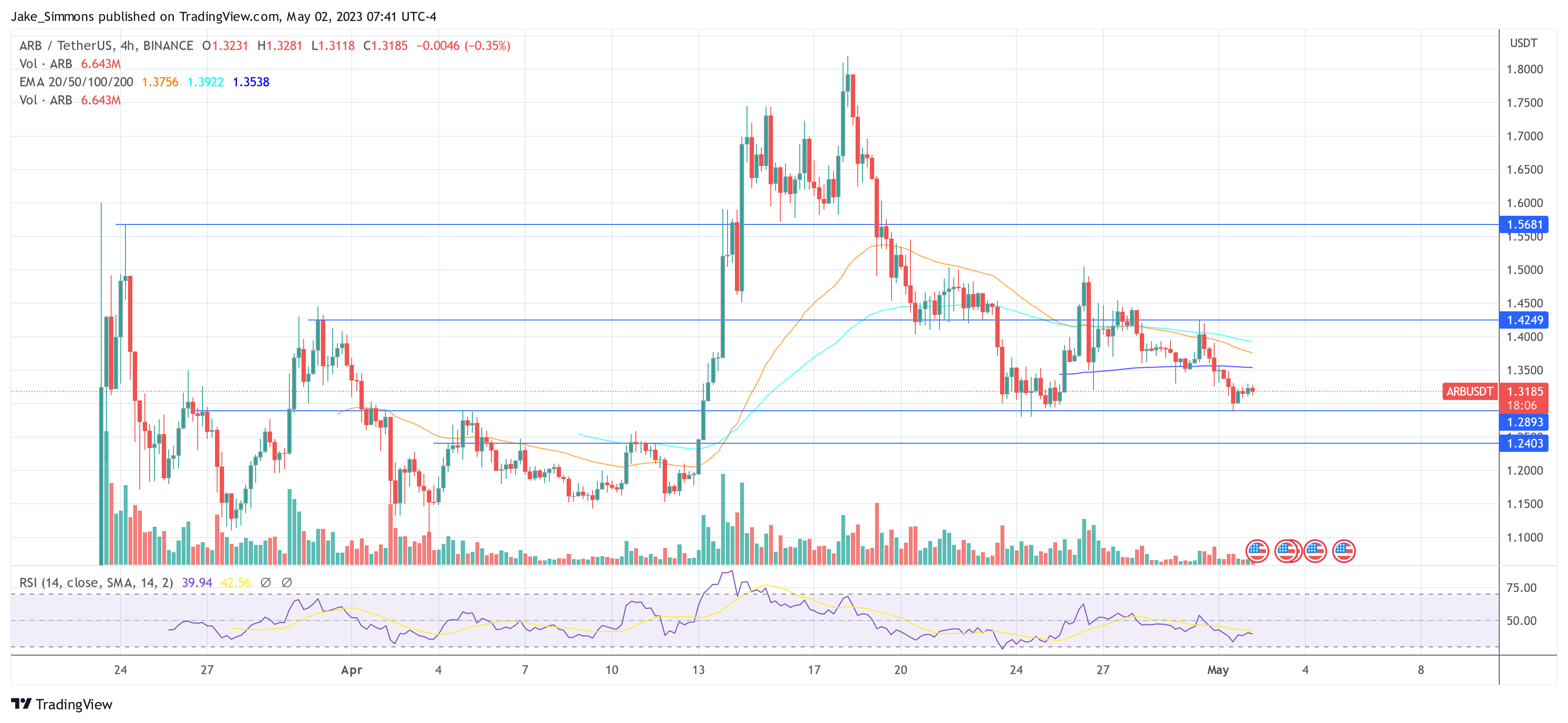 Arbitrum On-Chain Activity Remains Ultra Strong
Arbitrum's current technical strength on the charts coincides with its on-chain activity. Most metrics for Arbitrum are at an all-time high. Most importantly, the growth of the Arbitrum ecosystem has remained solid after the airdrop, showing increased activity, as researched by analyst Francesco, who states:
Contrary to what was expected after the airdrop, TVL is rising: GMX still remains the best perpetual DEX, and Arbitrum still remains the home of DeFi due to its composability, cheap fees, and fast confirmation times.
Arbitrum leads on almost every metric, especially TVL. The fact that more users have switched to zkSync is most likely due to airdrop hunters.

Arbitrum's TVL is currently over $2.2 billion, an increase of over 100% compared to the fourth quarter of 2022. The primary reason for this is the perpetual DEX called GMX, which is Arbitrum's leading protocol with over $500 million or 26% of TVL.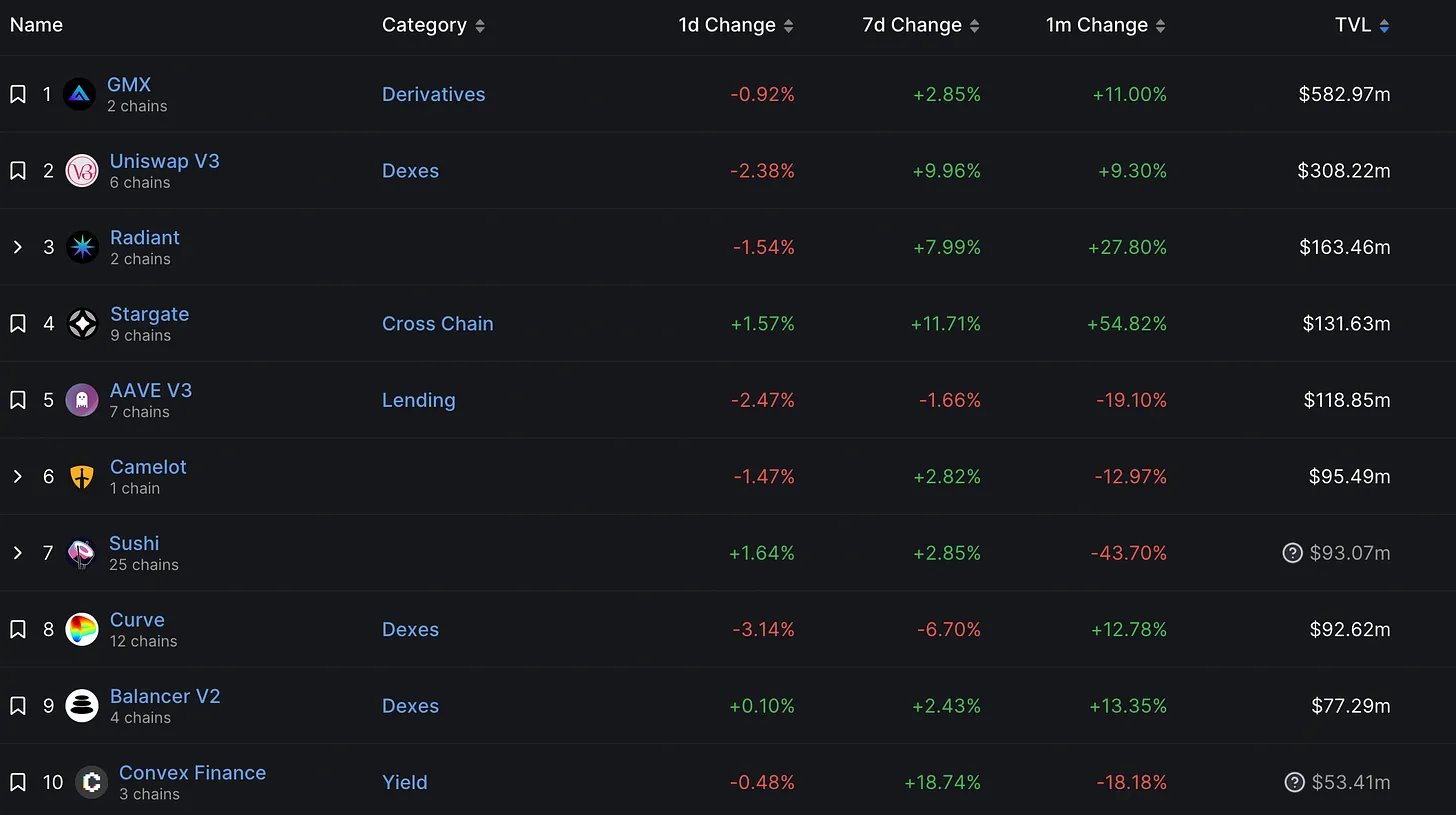 However, with Radiant, Stargate and Camelot DEX, Arbitrum based projects also occupy three more places within the top 6 decentralized exchanges, underlining the growth of the entire ecosystem. Furthermore, Arbitrum ranks 4th among all blockchains by TVL, just behind the layer-1's Ethereum, Tron, and BSC.
Featured image from Nansen, charts from TradingView.com