Apple is partnering with Nike this month to give Apple Card users six percent Daily Cash back on purchases, up from the typical three percent cash back offer. The deal is available through the end of May, and customers can get the higher cash back percentage on up to $500 in goods.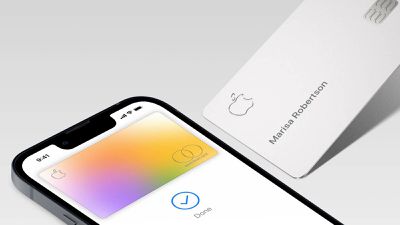 The additional cash back is available when using the ‌Apple Card‌ to make purchases from the Nike website, U.S. Nike stores, or the Nike app, and Apple Pay is required. A Nike customer who spends $500 with ‌Apple Pay‌ and the ‌Apple Card‌ will receive $30 in total, and after that, the Daily Cash back total drops back down to three percent.
Customers who open a new ‌Apple Card‌ account by 5/31 and spend $75 or more at Nike within the first 30 days of having the card will be able to get $75 cash back.
Apple partners with a number of vendors to offer three percent Daily Cash back on ‌Apple Pay‌ purchases made with ‌Apple Card‌. Companies that support the extra cash back include Ace, T-Mobile, Nike, Uber Eats, Uber, Panera, Walgreens, Exxon Mobil, and of course, Apple's own retail stores. Standard ‌Apple Pay‌ purchases earn two percent cash back, and all other purchases earn one percent.
Daily Cash can be transferred to a bank account, used for Apple Cash purchases, or deposited into the new ‌Apple Card‌ Savings account that came out in April.
The ‌Apple Card‌ continues to be limited to customers in the United States.
Popular Stories
Apple Releases Rapid Security Response Updates for iOS 16.4.1 and macOS 13.3.1
Apple today released Rapid Security Response (RSR) updates that are available for iPhone and iPad users running the iOS 16.4.1 update and Mac users running macOS 13.3.1. These are the first public RSR updates that Apple has released to date. Rapid Security Response updates 16.4.1 (a) and macOS 13.3.1 (a) are designed to provide iOS 16.4.1 users and macOS 13.3.1 users with security fixes…
iOS 16.5 for iPhone Coming Soon With Two New Features
Apple made the third beta of iOS 16.5 available to developers and public testers earlier this week. So far, only two new features and changes have been discovered for the iPhone, including a Sports tab in the Apple News app and the ability to start a screen recording with Siri. More details about these changes are outlined below. iOS 16.5 will likely be publicly released in May, and it is…
Nearly $1 Billion Deposited by Apple Card Owners Four Days After Savings Account Launch
Apple on April 17 introduced the Apple Card Savings account, and it turns out that it was highly popular with iPhone users. The new Apple-branded high-yield savings account saw up to $990 million in deposits during the first four days after launch, according to Forbes. Forbes says that it spoke with two anonymous sources with knowledge of how the Apple Savings account performed shortly after …
Gurman: Apple to Announce 15-Inch MacBook Air at WWDC
Apple plans to announce the rumored 15-inch MacBook Air at WWDC, according to Bloomberg's Mark Gurman. The laptop is expected to be unveiled alongside iOS 17, macOS 14, watchOS 10, tvOS 17, and Apple's long-awaited AR/VR headset. Gurman revealed the plans in his newsletter on Sunday:As part of watchOS 10, the company is planning to bring back widgets and make them a central part of the…
Alleged iOS 17 Wallet and Health App Redesigns Shown Off in Mockups
The Wallet and Health apps are rumored to be getting updates in iOS 17, and leaker @analyst941 today shared some mockups that allegedly represent the design changes that we can expect to see. In the Wallet app mockup, there's a navigation bar at the bottom that separates the different functions available in the app. Cards, Cash, Keys, IDs, and Orders are listed categories. Note that this is…
Apple Releases New Firmware for AirPods Pro, AirPods, and AirPods Max
Apple today introduced new 5E135 firmware for the AirPods 2, the AirPods 3, the original AirPods Pro, the AirPods Pro 2, and the AirPods Max, up from the 5E133 firmware that was released in April. Apple does not offer immediately available release notes on what's included in refreshed firmware updates for the AirPods‌, but the company does maintain a support document with release…
Gurman: Widgets to Be 'Central Part' of watchOS 10's Interface
watchOS 10 will introduce an all-new system of widgets for interacting with the Apple Watch, according to Bloomberg's Mark Gurman. In the latest edition of his "Power On" newsletter, Gurman explained that widgets will become a "central part" of the Apple Watch's interface with watchOS 10. He compared the new system to Glances, the widgets interface that launched on the original Apple Watch…