(Family Features) For many people, traveling is about exploring new cultures, landscapes, cuisines and ideas. However, the cost of the trip is still one of the most important considerations when booking a vacation.
In fact, according to a survey conducted by Slickdeals, a one-of-a-kind online community of shoppers working together to shop smarter and save more, 81% of respondents listed total cost as their top consideration followed by a desire for kid-friendly experiences at the destination and discounts or deals on transportation and lodging.
Even amid reported concerns about inflation (56%), increasing flight costs (51%) and gas prices (49%), 84% of families plan to spend the same amount or more on travel this year as last. Among the respondents, 42% plan to spend between $1,501-3,000 and 15% plan to spend $5,000 or more on travel.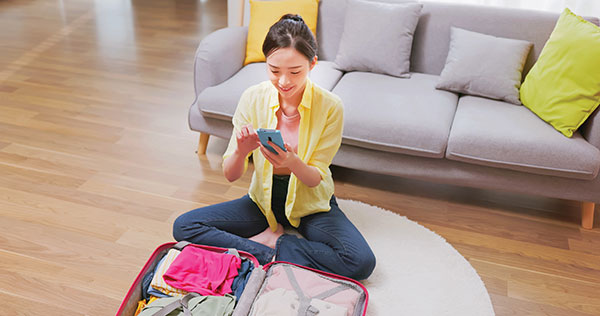 While traveling is undoubtedly an investment, it doesn't have to break the bank. Consider these tips from Pete King, deal expert for Slickdeals, to save money as you begin planning your next excursion.
Set your budget with hidden costs in mind. When setting budgets, many people stop at the basics like transportation, accommodations and entertainment. Make sure to factor in additional costs such as pet care, food, checked luggage fees and airport and hotel parking so there are no surprises at the end of the trip.
Look for deals. Being open to a variety of destinations and travel dates can help you score the best deals. If you're tired of switching between booking sites or searching online for bargains, consider browsing the latest travel deals on the Slickdeals Travel Page where community members share some of the best travel deals on the internet, which can save you time and effort when looking for savings on your trip. You can even set deal alerts to be notified when deals pop up for your desired destination.
Bring an empty water bottle. While Transportation Security Administration regulations don't allow you to bring most fluids through security checkpoints in airports, packing an empty water bottle in your carry-on or personal item can save you from high costs inside the terminal. Once you're through security, simply fill your bottle at the nearest water fountain. An added bonus: You can take the full bottle on the airplane to stay hydrated during the flight without having to rely on the small complimentary beverage on board.
Pack less than you think you'll need. Many people overpack, and that can be a costly mistake. A single checked bag can cost as much as $50, and some airlines charge extra for a ticket that includes a carry-on. For a weekend trip, keep it simple with a carry-on or backpack, and for longer adventures, keep in mind nobody at your destination will likely know you wore the same jeans two days in a row.
Find the right rewards credit card. If you have a rewards credit card, you could get cash back when you make certain purchases. You could get a percentage back on groceries, travel, dining and more. For example, with a travel rewards credit card, you earn points or miles that can be redeemed for future travel plans. General travel cards earn points or miles on virtually every purchase, regardless of airline or hotel chain, while co-branded cards that align with a specific airline or hotel reward users with more points for loyalty spending and provide additional benefits like free checked bags or a free night's stay on your card anniversary.
Find deals on travel and more at Slickdeals.com/travel.
Photos courtesy of Getty Images