What are the best side hustles for medical students?
With med school so expensive — $40,000 to $65,000 a year! — it's only natural to look for ways to make money that fit with your classes and other obligations.
As a future doctor, you've got a pretty clear career path ahead of you, but there are still lots of ways to generate income in the near-term while still prioritizing your medical education.
We selected these med student side hustles based on:
Flexibility of schedule
Earning potential
Feedback from over 100,000 side hustlers
Ready? Let's do it!
1. Tutoring
Did you ace your MCAT? Dominating your pre-med classes? A tutoring business could be a great way to make some extra money and help people achieve their goals in life!
As a medical student, you have a unique set of skills and knowledge that can be used to help others achieve their dreams of becoming a doctor as well.
You can start by offering one-on-one tutoring sessions to medical students and pre-meds. Popular marketplaces like Wyzant and The Princeton Review can connect you with potential customers.
Or, you could offer online tutoring sessions through Google Meet, Microsoft Teams, or Zoom.
Tutoring doesn't require any startup costs and can earn anywhere from $50-250 an hour.
You can start small with a simple website and a few clients, and grow your business from there.
2. Help with Med School Admissions
For years, my friend Dr. Ryan Gray has been helping students with the medical school admissions process. He produces online content about admissions and does expert one-on-one and group consulting.
Similarly, Dr. Shirag Shemmassian built a multi-6-figure business helping students with their personal statements and applications. At $4k+ per client, it doesn't take a ton of customers to turn this into a serious side hustle!
3. Create a Helpful Website
Blogging can be a fun and lucrative side hustle for med students. There are many ways to monetize a website, and many doctors have found success outside their practice by starting a blog.
If you have an interesting story to tell, or a unique perspective on medical (or other) issues, you can make money by building out a helpful online resource.
Some famous examples include:
Making money blogging requires hard work, dedication, and a commitment to learning online business.
Here are some tips to get started:
Find a topic that interests you and focus on it. (For example, diabetes, arthritis, cancer, etc.).
Develop a content strategy and create engaging posts that will attract readers.
Promote your blog through social media and other online channels.
Make money from advertising, affiliate marketing, or your own products and services.
4. Resell Furniture Returns
Reselling furniture returns is a unique low-risk side hustle med students can do in your spare time.
How it works is you join Sharetown as a local "reverse logistics" rep. Sharetown partners with direct-to-consumer mattress and furniture brands to handle their return requests.
When customers decide they don't want to keep the item, you'll get dispatched to go pick it up. After that, you'll clean it up, photograph it, and list it for resale on sites like Facebook Marketplace.
The Sharetown reps I've connected with target $150-250 per flip — and the kicker is you don't have to pay Sharetown for the inventory until the item sells.
Check out my full Sharetown review to learn more.
5. Freelance Writing
Freelancing can be a great way to make some side income from home.
There are many different types of writing available, including medical writing, medical copywriting, and many others.
Some places you can look for medical freelance writing jobs are:
For online health sites, you may be able to reach out and see if they're looking for freelance writers.
You can also search online databases of healthcare-related job openings.
Freelance writing can pay pretty well, too, especially if you're a fast writer. Rates typically range from $0.05 to $0.35 per word, which means a 1,000 word article could pay $50-350.
6. Host Group Classes or Workshops
Some med students host group fitness classes or educational workshops in the evenings. For example, if you're studying orthopedics, you could put together a class on injury prevention or how to rehab after surgery.
A friend of mine organized a series of outdoor, after work exercise "boot camps" and earned around $100 an hour.
There are also sports leagues that need coaches and officials that may fit your schedule.
7. Flipping Books or Textbooks
Flipping books is a popular side hustle idea for all ages, but students have an advantage. Textbooks are often some of the highest priced books being sold online, and you're already close to the source.
How this gig works is you download a barcode scanning app, like ScoutIQ (paid) or Bookscouter (free), to see what books are selling for on Amazon and other marketplaces.
You can source inventory from friends, local library stores, yard sales, and used book stores and thrift stores. One Side Hustle Show guest reported earning up to $4000 a month from his book flipping business!
8. Part-Time Jobs
One of my best student jobs was working as a cashier at a Mongolian Grill restaurant.
So. Much. Free. Food.
I made $10 an hour, and I distinctly remember walking up to the University of Washington administrative offices and paying my tuition in person from money I earned at the restaurant.
Check out an app like Steady to connect with part-time gigs near you, or check out our full Steady app review to learn more.
9. Online Surveys
These won't make you rich, but can be an easy way to make some beer money. You can do these as time allows, like while waiting in line or watching TV.
Here are a few of the top options:
Swagbucks – Earn up to $35 a survey with this mega-popular app, and get a $10 bonus just for signing up!
Survey Junkie – Earn up to $40 a month and cash out beginning at just $5.
InboxDollars – Get a $5 bonus just for signing up!
YouGov – Long-running survey panel, with data often cited in the media.
Branded Surveys – One of the best-rated survey sites with millions paid out.
Pinecone Research – Earn $3 for each 15-20 minute survey. They'll send you a $3 check after your first one.
American Consumer Opinion – Join millions of free members and earn up to $50 per survey.
10. Sleep Consulting
As any parent can attest, sleepless nights with babies and toddlers are a major pain! To help support those bleary-eyed parents, sleep consultants create semi-personalized plans to get those kids sleeping through the night.
And they charge $400-600 for it!
Since the work is done remotely, you can take on several clients at once. On top of that, your medical background makes your advice more credible.
11. Start a YouTube Channel
With your interest and background in health and wellness topics, a YouTube channel can be a great way to share your knowledge with the world.
What kind of videos could you make? Content ideas might include:
what med school is really like
admissions help
MCAT test prep advice
explanations of symptoms and possible treatments
product reviews
self-care instructions
Q&A sessions
health tips and tricks
and more
Medical content is surprisingly popular on YouTube. For example, Doctor Mike has over 10M subscribers. The New York city-based Board Certified Family Medicine Doctor is estimated to make thousands of dollars a day from his videos!
12. Cash Back Apps
Whenever you're going out to eat, shopping online, or buying groceries, make sure you're maximizing your cash back.
I do this today through apps like:
Fetch Rewards – Scan pictures of your grocery receipts to earn cash back on hundreds of brands.
Capital One Shopping – This is a cool free browser extension that helps earn rewards when you shop online, whether or not you bank with Capital One. Disclosure: I'm an affiliate of Capital One Shopping and earn money when you sign-up.
Ibotta – The popular Ibotta app has been around forever and gives you cash back when you buy participating products and brands.
13. Instacart Deliveries
If you enjoy grocery shopping, becoming an Instacart shopper can be a good way to make money while you're school.
Instacart generally pays shoppers between $15 to $25 per hour to deliver groceries.
As a full-service shopper, you take orders from customers, find and pay for the items on their list, and deliver the goods to the customer's home. You get paid a commission based on the size of the order plus any tips you receive from customers.
Side Hustle Nation reader Kevin LaCombe is earning an extra $450-500 a week as a Full-Service Instacart Shopper:
14. Become a Brand Ambassador
Brands love to hire college students for events and other local marketing efforts. As a brand ambassador, you can get paid to hand out samples, pass out flyers, or staff events.
Typical rates might be in the $10-30 per hour range, and you can find gigs through Facebook, Craigslist, or your campus newspaper.
15. Selling College Class Notes
Diligent students may be sitting on a goldmine of notes from past classes. You can sell these on campus to your fellow medical students or undergrads during exams time, or list them on an online notes marketplace.
According to OneClass, you can earn up to $470 per class.
16. Consumer Research Studies
Companies and brands are often looking for feedback on upcoming products, and will pay you for it. I've done several online product studies, and even a couple in-person focus groups.
My favorite is User Interviews, which has a bit more of a tech focus, but occasionally had medical-centered studies as well.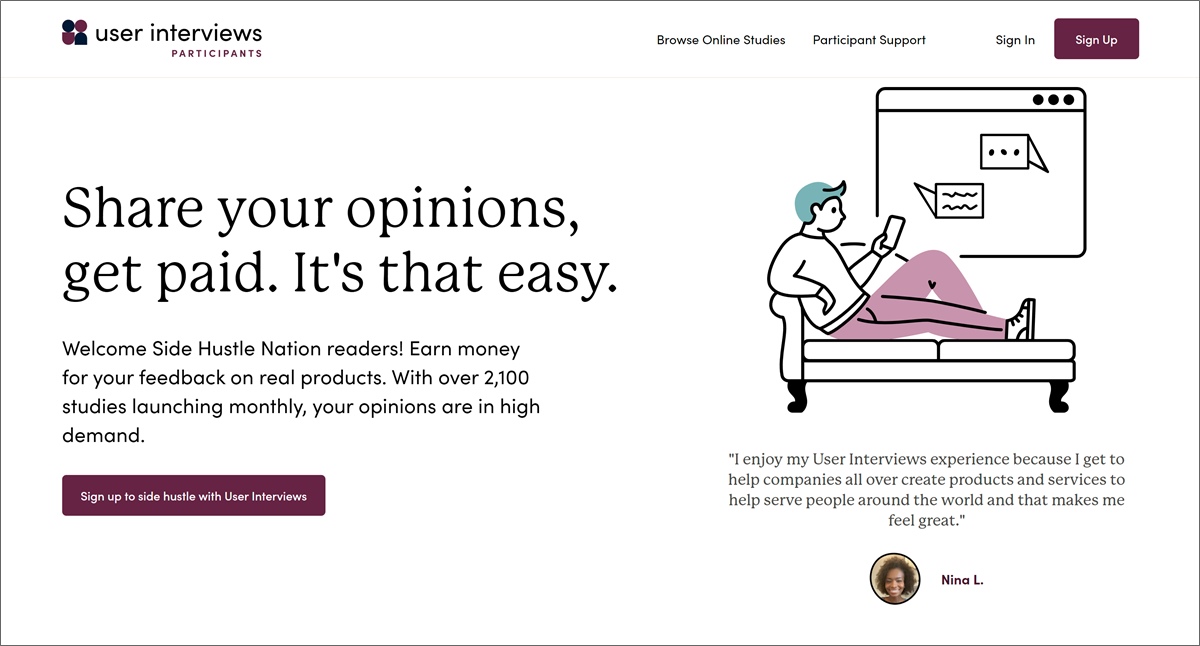 These are actually a lot of fun and often pay in the $60-100 an hour range.
For medical and patient-specific studies, check out Rare Patient Voice. This service pays $100 an hour and specializes in medical research.
Related: Online Focus Groups: 10 Consumer Research Companies that Pay Up to $100 an Hour for Your Opinion
17. Medical Transcription
As a medical transcriptionist, you transcribe doctors' audio recordings into written reports. This can often be done remotely and on a flexible schedule, which makes it a great side hustle for students.
Plus, it's a gig that's easier for you because you already know the common medical terminology. Transcriptionists typically earn around $1 per audio minute.
Joanna Norman reported earning $1000 a month working part-time from home as a transcriptionist. Since Joanna had a background in science, she found a natural fit in transcribing medical and sociological research for universities.
She gave the example of transcribing, "Qualitative interviews, where they're interviewing a patient about their experience with opioid painkillers or with the COVID pandemic, or they're interviewing nurses who have cared for elderly patients."
Joanna credited an online class from TranscribeAnywhere.com with helping her get started.
18. Research Assistant
Medical school faculty and professors often hire med students to help with their research. Common tasks may include:
Collecting data or samples
Reviewing literature
Surveying patients
Check with your institution for any available research assistant jobs.
19. Device Rental Business
Lenny Tim's mobility scooter rental business.
20. Donate Plasma
A friend of mine says donating plasma is how she paid her rent in college. With each donation paying $20-50, it's a relatively easy way for students to make extra money—if you don't mind needles.
You can go several times a month on your own schedule.
21. Clinical Trials
Before any new drug or procedure gets approved for use, researchers need to make sure it's safe. Participating in clinical trials gives you a firsthand look into the medical research process.
Check with ClinicalTrials.gov to look for trials in your area.
What's the Best Side Hustle for Medical Students?
Hopefully this list gave you some ideas and inspiration for what side hustles you can do as a med student.
Which option is best for you depends on:
the time you have to dedicate to it
your interests and skills
your goals
The most important thing you can do with any side hustle is to simply take action. Give it a try to see if you like it. If not, adjust course and try something else!
There are tons of options and the last thing you need is a side hustle that drains your energy!
Looking for More Side Hustle Help?