Bitcoin continued to grapple with price instability over the weekend, prompting investors to hold their breath. After a minor increase on Friday and Saturday, Bitcoin's price dropped to $26,750 on Sunday – a fall of nearly 1.50%.
However, amidst the ongoing Bitcoin volatility, meme coin sensation AiDoge continues to impress – and has just breached the $11m mark during its presale phase.
Price Chart Paints Bleak Picture for Bitcoin Bulls
The past six weeks have been challenging for "Bitcoiners," with the coin's current price trajectory far from what it was in mid-March.
At the time of writing, Bitcoin is trading around the $26,850 level, where it has struggled for nearly ten days.
Price has created a strong support level around $26,750 – precisely the area that Bitcoin fell to over the weekend.
Looking at the price chart, this strong level of support is evidenced by the long wicks poking down on the Daily timeframe. This indicates that there's a significant amount of buying volume around this level, ultimately forcing price back up before the close each day.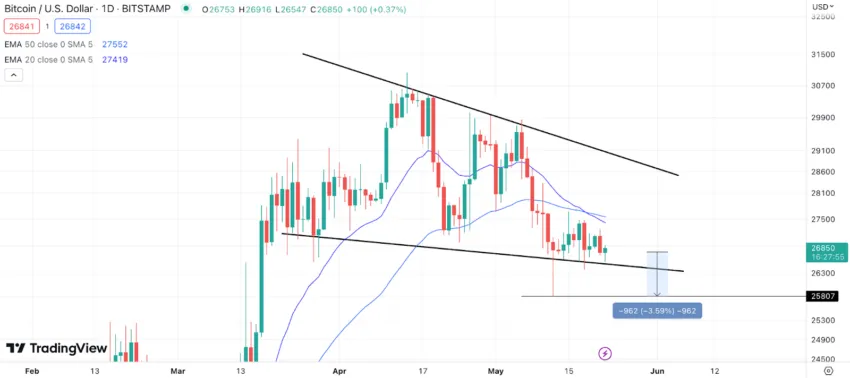 However, this hasn't stopped bears from attempting to break through this level, with price now resting just above it.
Digging deeper, Bitcoin's price is trading comfortably below the 20-day and 50-day exponential moving averages (EMAs). These EMAs are often used as a proxy for the short-term and medium-term trend – so the fact that price is below them is bad news for bulls.
Adding more fuel to the fire, CoinGlass now reports that the BTC long/short ratio chart favors further downside. Moreover, 9% of all traders now consider themselves "very bearish" on Bitcoin.
However, the good news for those long on Bitcoin is that price has yet to close below the crucial support level of $26,750.
As long as price remains above this level, there's scope for a potential reversal. If price does break below this level, BTC will likely fill the wick left on May 12 – which would mean a drop back to $25,810.
This would represent a 3.52% drop from today's price.
Bitcoin Remains Vulnerable Amid US Debt Ceiling Crisis
One of the main factors contributing to Bitcoin's ongoing price struggles is the looming threat of the US hitting its "debt ceiling."
Currently, the US has a cap on the amount of debt it can accumulate, set at $31.4 trillion. At the time of writing, this cap has been exceeded. 
Naturally, this is a massive threat to the stability of the US economy, which is why lawmakers are currently hashing it out to find a solution. This will likely be to raise the debt ceiling, which has been done many times before.
Regardless, the fact that a US default is even a possibility has affected all financial markets – and the crypto market is no exception.
According to Bloomberg, Bitcoin is now considered a more popular "safe haven" than the US Dollar. However, throughout 2022 when inflation was rampant, this didn't stop Bitcoin's value from plummeting.
Thus, many in the crypto community are worried that Bitcoin's value could drop even further if the US defaults. This would be due to risk aversion from investors, who may look to liquidate their "risky" assets like BTC.
Moreover, any default could cause a liquidity crunch in the US, which may force investors to sell off their crypto holdings to raise cash. This selling pressure would likely cause the Bitcoin price to crash.
Ultimately, the precarious situation of the US debt ceiling continues to cast a shadow over Bitcoin's value – stirring concern among the crypto community.
Rising Star AiDoge Raises Over $11m & Continues to Wow Investors
While Bitcoin grapples with macroeconomic uncertainties, a new player in the crypto market is causing a commotion: AiDoge ($AI).
Having successfully raised over $11 million through its ongoing presale, AiDoge is poised to challenge the status quo in the meme coin niche.
For those unaware, AiDoge is one of the most talked-about crypto presales of the year, mainly due to its unique blend of artificial intelligence (AI) technology and viral appeal.
The project's flagship feature is its one-of-a-kind meme generator, which enables users to create memes in seconds via text-based prompts. Through this setup, users don't need to develop their own captions or spend hours editing photos – the AI algorithms handle all of this on the backend.

Per AiDoge's whitepaper, users will require $AI, the platform's native token, to use the meme generator.
This token can also be staked to earn daily credit rewards and used to vote on user-created memes uploaded to the "public wall."
AiDoge's incredible presale success over the past month has caught the eye of several crypto influencers – with YouTuber Michael Wrubel posting a video to his 310,000+ subscribers highlighting how he's now invested in the project.
The support from big hitters like Michael Wrubel has also prompted a massive influx of new members to the project's Telegram channel, reflecting the growing excitement around AiDoge.
Given its pioneering blend of AI technology and meme-style appeal, AiDoge is carving out its own niche in the crypto market – with many expecting $AI's value to explode once listed on major exchanges.
Visit AiDoge Presale
Disclaimer
This article is sponsored content and does not represent the views or opinions of BeInCrypto. While we adhere to the Trust Project guidelines for unbiased and transparent reporting, this content is created by a third party and is intended for promotional purposes. Readers are advised to verify information independently and consult with a professional before making decisions based on this sponsored content.