But even Gulden had no easy answers to questions about Yeezy. He praised the partnership from the point of view of product design, distribution and marketing. "It was a fantastic combination," he said. "Unfortunately, it's now lost, and it's something that we need then to replace with many, many, many pieces."
Brothers not in arms
Adidas and Nike might be eternal rivals, but the battle between Adidas and Puma is personal. Adolf "Adi" Dassler and his brother, Rudolf, both members of the Nazi Party, ran a shoemaking business together until they had a bitter falling out during World War II, when Rudolf fought in Poland while Adi stayed home to run their factory. Rudolf started his own company, Puma, in 1948, and Adi started Adidas a year later. The ensuing rupture split the family in two, along with the surrounding town of Herzogenaurach – Herzo, as locals call it. Residents got sucked into the sibling rivalry, with thousands working for one brother or the other.
For decades after the war, the Dasslers dominated sports from basketball and track to the Olympics and the soccer World Cup, but their hostilities over market share and bragging rights were so intense that by the 1970s they failed to appreciate the rise of an upstart in Oregon.
Adi Dassler never saw his company dethroned. He died in 1978 – four years after his brother – of heart failure, just before Adidas made a decision that would forever haunt it.
In 1984, Adidas and Nike looked into signing a college basketball star named Michael Jordan to a shoe deal before he'd even stepped onto an NBA court. Sneaker sponsorships were nothing new: Adi Dassler famously persuaded Jesse Owens to wear his spikes at the 1936 Berlin Olympics. The Dasslers had even pioneered the sports-inspired lifestyle category. Puma churned out hits such as the Walt "Clyde" Frazier basketball shoe. Adidas later became the first brand to dive into street culture when it paid hip-hop group Run-DMC to wear its tracksuits and hawk the brand in the song My Adidas in the mid-1980s.
Two marketing hotshots at Nike, Rob Strasser and Peter Moore, offered Jordan an unprecedented endorsement deal flush with royalties, a high annual salary and a personal shoe brand called Air Jordan. Even though Jordan was a die-hard Adidas fan, Adidas didn't want to pay that kind of money. The year Air Jordans made their debut, Nike made $US126 million in revenue from the line, according to Jordan's agent. By the end of the '80s, Adidas had fallen to third place in the industry, trailing Nike and Reebok.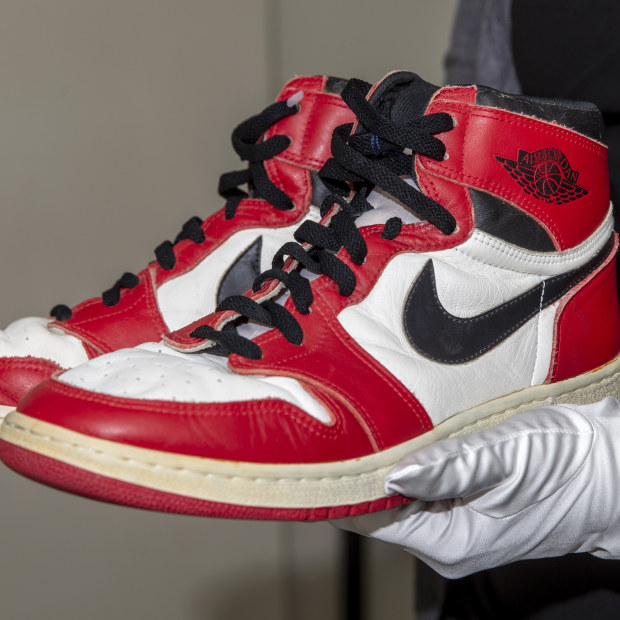 Remaking the game
The Nike-Jordan partnership scrambled the dynamics of the sneaker industry. Before Adidas passed on Jordan, about 75 per cent of pro basketball players wore the stripes on the court. Nike quickly took near-total control of basketball; because of the sport's cultural significance in the US, the world's single biggest sports market, this shift was seismic. For decades, a common gripe from Adidas employees in the US was that their leaders in Germany failed to appreciate American culture.
It wasn't until the 1990s, after the Dassler family lost control of the company and Strasser and Moore defected to Adidas, that it was ready to fight back. When Moore flew to Adidas HQ, he marvelled at its archive of products, including the three-striped white boots worn by boxing legend Muhammad Ali. "This guy Adi was the father of 90 per cent of the industry," Moore recalled, according to Portland Monthly. His other thought: How had Adidas managed to "f— it up so bad?"
Strasser and Moore introduced a new line of no-frills athletic sneakers and apparel, channelling the brand's performance origins. But Strasser died suddenly of heart failure at age 46. Moore briefly took over as head of Adidas' US operations, while a wealthy French businessman, Robert Louis-Dreyfus, became CEO and took the company public.
Following him was German executive Herbert Hainer, who bought Reebok for about $US3.8 billion in a gambit to compete with Nike in the US. Among the many employees Moore groomed at Adidas was a lanky swimmer named Eric Liedtke. After working at the Adidas office in Portland, Oregon, he was shipped off to Germany, where he oversaw the development of Boost, the spongey cushioning technology that Adidas developed with German chemicals maker BASF.
At last, Adidas had an answer to Nike's decades-old midsole platform Air. The new product revolutionised Adidas' line of running shoes. In 2014, Liedtke became the company's first American head of global brands. "Herbert Hainer basically came to me and said, 'Hey Eric, two things: You've got to reset the brand. Do what it takes, and don't ask me for permission, ask for advice,'" Liedtke recalls. He set out to finally create Adidas' Jordan.
Kanye West had always loved Nike, not Adidas. In late 2006, less than a year after Mark Parker was named CEO of Nike, he invited West to perform at Manhattan's Gotham Hall in front of a celebrity crowd that included director Spike Lee and New York Knicks legend Patrick Ewing. They were there to celebrate the 25th anniversary of Nike's Air Force 1s, with 1000 pairs on display throughout the venue. West would later be photographed on a private jet with Parker, sketching shoe ideas for Nike.
Over the next few years, as the rapper released several albums, he and Nike developed the Air Yeezy together. The shoe came out in 2009, followed by a second iteration three years later. They're still some of the most coveted sneakers of all time – today, a pair of Nike Air Yeezy 2 Red October high-tops, which look like 3D-printed sneakers made of plastic mesh strawberries, can sell for $US15,000 or more.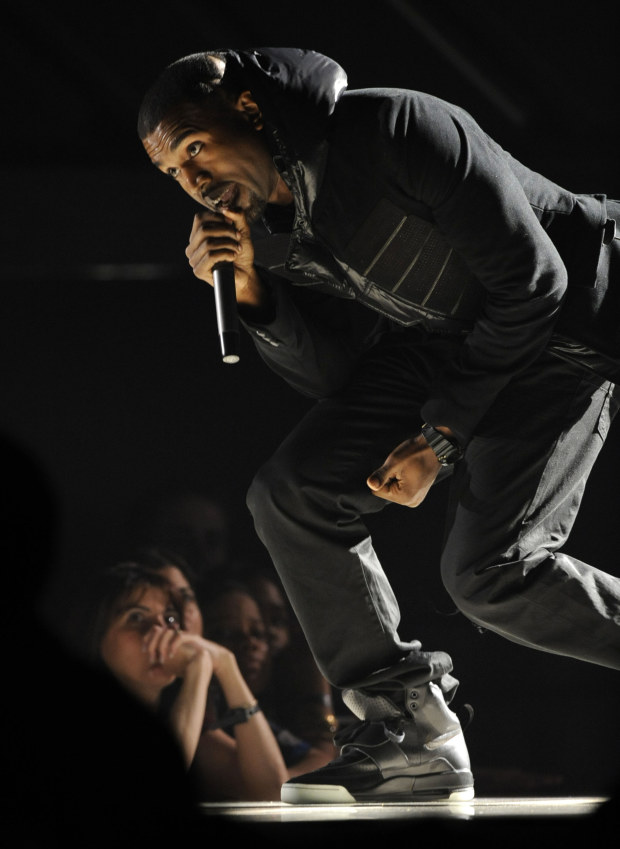 The relationship soured when West demanded royalties from every pair sold. "Nike told me, 'We can't give you royalties, because you're not a professional athlete,'" West said after they cut ties. "I told them, 'I go to the Garden and play one-on-no-one. I'm a performance athlete.'"
A win for Adidas
West met quietly with Adidas executives in New York during a rehearsal session for Jimmy Fallon's talk show. West soon landed a groundbreaking deal: autonomy over his own design studio, promotional fees and a cut of sales.
Hainer gave West a level of top-dog access the rapper craved. The next spring, West married Kim Kardashian at a Renaissance-era fortress in Tuscany. Andrea Bocelli sang as the bride walked down the aisle.
Nike executives had cautioned their Adidas counterparts in Portland that West was difficult to work with. West didn't exactly try to hide it either. "Ain't no corporation that can take me away from my voice and I'm going to scream at the top of my motherf—ing mountain as loud as I want," he told the crowd at Madison Square Garden while touring in 2013.
The warnings were overlooked as it became clear to Adidas that they'd hitched themselves to a potentially transformative figure. Right after Adidas' first Yeezy shoe went on sale, West began wearing the German company's Ultraboosts; suddenly they were selling out. The Yeezy Boost 350, which sold out in 12 minutes the day it launched, was named Shoe of the Year by Footwear News in 2015.
Adidas and West signed a 10-year agreement in 2016 and outlined plans to expand Yeezy styles, open shops and enter more markets. West didn't work for Adidas; Yeezy was an independent business that would earn money off every shoe sold. The artist had his own LA-based staff of designers and marketers and was free to take on other projects and hold his own fashion shows. His employees would work closely with Adidas' new homegrown Yeezy team in Portland.
Adidas was already riding high on its hottest streak in decades, with Boost powering its NMD R1 running sneakers, and supermodel Gisele Bundchen appearing nude, aside from Stan Smiths and socks, in Vogue Paris, driving demand for the tennis shoes. Pharrell Williams, meanwhile, had pumped fresh life into the company's resurgent line of Superstar basketball kicks. Adidas sales surged by more than a third to about $US21 billion from 2013 to 2016.
A new CEO
Some investors complained that the company was spending too much in its quest for cool. If Adidas couldn't be as big as Nike, it should at least be as profitable, they argued. So, when Adidas' supervisory board went looking for a new CEO to replace Hainer, it passed on Liedtke and landed on a wildcard in Kasper Rorsted, a Danish number cruncher who'd done time at Oracle, Hewlett-Packard and Henkel, a German soapmaker. Rorsted immediately got rid of distracting divisions at Adidas and built up its e-commerce operations to cut out middleman retailers.
At first, he seemed to be on to something. Adidas' profits and share price rose, and Rorsted was named Germany's top CEO in a German business magazine. But to anyone who knew where to look, cracks were emerging as shoppers lost interest in the same old stuff. Adidas inundated stores with Stan Smiths, then had to pull back distribution when it became apparent they'd overloaded the market. Suddenly, there weren't enough buzz-generating products coming out. Except Yeezys.
Ever since the Jordan brand began its ascent into a $US5 billion-a-year business, sneaker collaborations have become standard for athletic-wear companies. Stars power multimillion-dollar product lines – such as Stephen Curry at Under Armour and LeBron James at Nike – and forge personal relationships with executives. When James broke the NBA points record in Los Angeles this February, Nike's billionaire founder, Phil Knight, was courtside. The two embraced after the game: "I'm so happy you were here, brother," James told him. "Oh, I wouldn't have missed it," Knight said with a smile.
West and Rorsted never had that intimacy. The CEO never claimed to be a sneaker expert and said he didn't like to interfere with the design process. Yet few goods have ever upended the industry the way Yeezys did, and Rorsted had lucked into a game-changing product. Regular shoppers were often attracted to the knit styles and comfy cushioning, while professional resellers saw their chance to make some cash off a red-hot commodity. Limited releases would sell out in minutes, and the more unattainable the shoes got, the more people wanted them. That, coupled with West's ability to draw the world's attention with every social media post, was a billion-dollar formula.
In 2017, Yeezy's first full year with Adidas after the contract extension, net sales reached $US300 million, and the company broke $US1 billion in annual revenue after just three years, according to a cash-flow document prepared by UBS Group.
Acting strangely
As revenue spiked, West grew more erratic. Adidas executives got their first public scare in May 2018, when he barged into celebrity gossip site TMZ's newsroom and ranted about how chattel slavery was a choice for the enslaved. Amid the following outcry, Adidas' shares plunged. But Rorsted, appearing on Bloomberg Television to discuss the company's disappointing earnings, quashed any speculation about dropping his partner. "He's been a fantastic creator," he said, "and that's where I'm going to leave it."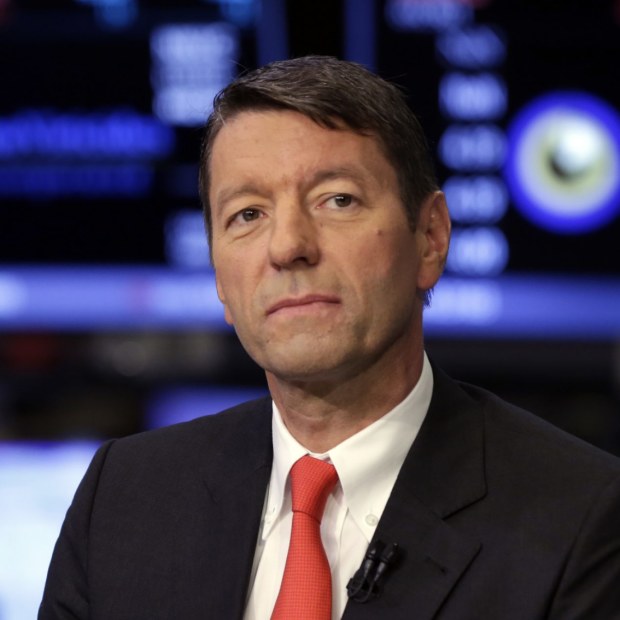 Adidas' Yeezy team wasn't surprised by management's reaction. Adidas employees and advisers, along with sneaker industry insiders, describe years of frustration with West. Staff would later write an anonymous letter to senior executives describing his totalitarian impulses and inappropriate behaviour, prompting outrage from some investors who demanded to know how long such antics had been tolerated. Adidas conducted an investigation, acknowledging that West created a "challenging" environment, and said it would put measures in place to prevent such unacceptable work conditions in the future.
Not long after the TMZ incident, West shocked Adidas again when he decided to move from Los Angeles to Cody, a small town in Wyoming, after recording an album there. He demanded that his staff and some of the Adidas Yeezy team relocate with him. Adidas began building a new design lab in a former pharmaceutical production facility there, trucking in millions of dollars' worth of machinery needed to make product samples. After months-long delays and pauses, the facility shut down entirely when West put his ranch up for sale and moved back to LA in 2021.
While Rorsted publicly praised West, behind the scenes, their relationship had deteriorated. From the beginning, West demanded to do things his way. Yeezy was given a level of independence no other label within Adidas had ever experienced. But Rorsted refused to roll out the red carpet for West, a source of friction since the rapper wanted to deal with only Adidas' top boss, not lower-level managers, according to people familiar with the matter. Rorsted liked having as much of the business as possible under his control, according to former colleagues, and West was uncontrollable.
Problems at home
Back in Germany, Rorsted had bigger problems. For all of West's idiosyncrasies, at least his business line was driving profits. When the pandemic began in 2020, sneakerheads flocked to Adidas' website, gobbling up every Yeezy release. But outside that bubble, nothing was going smoothly. Rorsted initially refused to pay rent on temporarily shuttered stores in Germany, causing consumers and politicians to rage against the company. Weeks later, Adidas took out US$3.3 billion in aid from the German government and banks, and halted dividend payments.
That summer, after the murder of George Floyd in Minneapolis, Rorsted's employees in Oregon held daily protests against their employer. Adidas staff called for change, saying officials had created a toxic environment for people of colour. Workers such as Julia Bond sent letters to the company's top executives and put together a 32-page slide deck to pressure leadership.
"As one of the few black women at this brand, my ask is still the same," she wrote. "I need this brand not only to admonish racism, but to actively be anti-racist."
Rorsted fired his head of HR, filling the position himself for several months. "Particularly in America, we have not made the progress with the black community and we're taking that very serious," he said after a listening tour.
The following March, Rorsted introduced a five-year strategy, which called for investing more than $US1 billion in a "digital transformation", doubling e-commerce sales and achieving reliably fast growth in China. That intricately crafted plan began to unravel two weeks later, when Chinese consumers began boycotting Western brands that had taken a stance against cotton sourced from the Xinjiang region because of concerns about forced labor of Uyghurs, a minority ethnic group. Chinese sportswear brands started capitalising on a "Buy China" movement, chipping away at foreign companies' market share. Before the pandemic, Adidas could rely on as much as 30 per cent annual revenue growth in China. Last year, China revenue fell 36 per cent.
Then came the Ukraine invasion, which forced Rorsted to pull out of Russia, exacerbating Adidas' inventory pileup and cutting off an entire region where Adidas had historically clobbered Nike. Also around this time, Rorsted sold Reebok for about $US2.5 billion, a third less than Adidas had paid 15 years earlier. By August, Adidas had slashed its financial targets and announced that Rorsted would step down at some point in 2023 to allow for a "restart". West gloated on Instagram with a fake New York Times front page reading, "Kasper Rorsted Dead at 60."
Booty call
Last September, West, who by now was divorced and had legally changed his name to Ye, picked up his phone in the middle of the night and called a Bloomberg reporter to tell the world he was done with "corporate America". That included Adidas, which had netted him nearly $US200 million in royalties the previous year and was the cornerstone of his billionaire ambitions. He accused it of stealing his designs, and he was willing to throw it all away to strike out on his own, no longer beholden to the whims of bosses and boardrooms. Documents prepared by Bank of America and reviewed by Businessweek estimated Yeezy's value at as much as $US3 billion in 2020.
On that late-night call, Ye said his business partners and the public treated him like he was crazy. "Do I sound crazy?" he asked. He answered questions about his future calmly, taking several seconds to think before replying, unlike his ravings at TMZ. He dismissed Adidas as a mere logistics provider, meant for menial work, not creativity.
"Adidas should simply be a manufacturing and distribution partner," Ye said. "They shouldn't be acting like they're cool." Even so, he said, he wanted to find a way for both parties to keep making money, perhaps "co-parent"-ing Yeezys – he'd independently keep creating them, and Adidas could sell them.
(The suggestion for a cordial new chapter turned out to be a bit more complicated: a few days earlier he had posted on Instagram that Adidas had offered him a billion-dollar buyout and he'd rejected it. Adidas declined to confirm or deny this to Businessweek.)
Around that time, some Adidas executives met with Ye in private. As shown in a heavily edited video that Ye's team released, he told two executives they were mistreating the guy who, in his mind, made them billions. He brought with him Liedtke, the former Adidas brand chief who now had his own clothing brand, and Shervin Pishevar, a Silicon Valley investor who resurfaced as vice chairman of Yeezy after being accused of sexual misconduct years earlier (Pishevar denied the allegations). At one point, Liedtke, who appeared to be acting as a mediator, offered words that were sympathetic to Ye's claims that Adidas had copied his designs. Even one of the Adidas executives acknowledged they could improve their cooperation with Ye. But Ye didn't appear to be looking for reconciliation. He took out his phone and played pornography for one of the confused Adidas executives. "Your worst nightmare is not me playing the porn," he said.
Adidas' worst nightmare actually happened in October, after Ye donned a White Lives Matter shirt at a Yeezy fashion show in Paris. A few days later, Adidas issued a statement that it was putting the collaboration under review. Then Ye began making those antisemitic screeds, at one point tweeting that he would go "death con 3 On JEWISH PEOPLE". Instagram and Twitter suspended him. Adidas and Yeezy employees were told to keep working as if nothing unusual was happening, according to a person familiar with the situation. New Yeezy products kept hitting the market. RBC Capital Markets estimated that Adidas generated more than $US100 million of Yeezy sales in the first few weeks of October.
Ye continued behaving as if he were untouchable. "I can say antisemitic shit and Adidas can't drop me," he boasted, dredging up memories of the company's historical Nazi ties. Whatever line there was for misconduct, Ye didn't appear to cross it. (For Adidas, anyway: His other corporate partners – Gap, fashion house Balenciaga, Hollywood talent agency Creative Artists Agency – all announced they were ending their business relationships with Ye.)
End of the relationship
By late October, Adidas faced mounting pressure from consumers, investors and human-rights groups to terminate the Yeezy partnership. Before it did, though, Adidas put on its annual Global Week of Inclusion, a four-day interoffice event billed internally as a step toward "creating a culture of true belonging". Bosses encouraged employees to attend or watch online the talks and panels set up to support equality across the organisation. The head of diversity applauded the week as a triumph; many employees disagreed, and some refused to attend at all. They viewed it as hypocritical grandstanding when their biggest business partner was spewing hate speech. Some employees were so disgusted they spoke out publicly. "Until Adidas takes a stand," an Adidas marketing executive posted on LinkedIn, "I will not stand with Adidas."
Rorsted, his senior executives and the supervisory board weighed what to do, waiting for the opinions of two US law firms before acting, according to a person familiar with the matter. On October 25, a month and a half after Ye had declared his intention to sever ties with bosses and boardrooms, Rorsted and top management held a two-minute call and decided to end Adidas' relationship with Yeezy, terminating the entire business line, effective immediately.
The next day, a mile south of Adidas' campus, Puma reported the highest quarterly sales and profit in that company's 74-year history. Even though its CEO, Gulden, was taking something of a victory lap, Adidas was on his mind. For weeks, Gulden had been fielding calls from Adidas headhunters, shareholders and board members asking if he'd be up for replacing Rorsted. His Puma contract would expire at the end of 2022, and he hadn't negotiated an extension. At 57, he still had another act in him.
When Gulden had arrived at Puma in 2013, the brand was facing an identity crisis. It had pushed too hard into fashion and, after two consecutive years of falling sneaker sales, was cutting jobs, closing stores and scaling back products. He believed the company needed to jump more quickly on industry trends and return to its athletic roots. Within months, he signed Puma's biggest sponsorship deal, with soccer club Arsenal, and soon kicked off a splashy advertising campaign starring Jamaican sprinting legend Usain Bolt. As Puma shoe sales started taking off, Gulden reminded investors to be patient. "You cannot turn a company around in 12 months," he said in early 2015, almost two years into his tenure.
By last year, Puma's revenue was soaring, nearly tripling under Gulden's watch, with half of that growth coming during the pandemic. His team had introduced performance running shoes and a new basketball line in the US, along with signing celebrity partnership deals. Rihanna collaborated on sneakers and apparel, while Jay-Z became a creative director and flew around in Puma's private jet.
Unlike Adidas, Puma was stronger than ever.
On that October earnings call, Gulden was asked repeatedly by reporters if he was open to taking the top Adidas job. He didn't say no. "I don't have any offer from them," he said cryptically, directing any further questions to his competitor. A week later, news poured out of Herzogenaurach: Gulden was leaving Puma and taking over as CEO of Adidas. Adidas' shares shot up more than 20 per cent.
Tough arrival
When Gulden issued his dismal 2023 earnings forecast in February, even veteran analysts and investors were rattled. The company's stock plunged on the news, wiping $US3 billion off its market valuation. "Horrible," said Volker Bosse, an analyst at Baader Bank. The expected cuts were "much deeper than anybody projected". But investors already seemed to be buying Gulden's narrative – the blow of a potential $US1.3 billion Yeezy write-off was softened by reminders of Gulden's sterling track record at Puma. Several even suggested loading up on Adidas stock while it was cheap. "One of Mr Gulden's main strengths is his leadership and ability to build a fast, collaborative 'winning' culture," Berenberg analysts recently wrote.
But the Yeezy-sized hole in Adidas' product lineup keeps getting bigger. Collaborations with NBA superstars James Harden, Damian Lillard and Trae Young have garnered some success, but nothing anywhere near what Yeezy did. Nigo, the streetwear master who founded A Bathing Ape and is artistic director for LVMH's Kenzo label, has signed a deal with Nike after working extensively with Adidas for decades, according to a report from culture magazine Complex. An activewear line with Beyonce's Ivy Park label was supposed to be a big winner, but it failed to meet expectations in its first three years. A person with knowledge of the matter says sales were missing projections by about $US200 million and the two parties have mutually agreed to end the partnership. (Gulden says no such decision has been made. A representative for Beyonce didn't respond to a request for comment.) Pharrell, who signed a long-term deal with Adidas in 2014, recently joined French luxury label Louis Vuitton as its men's creative director, raising questions about the future of Adidas' most successful non-Yeezy collaboration.
For now, Gulden is going back to the retro well, something the company has always been a little too good at. With renewed interest in its old standby, the Samba, Gulden has ordered factories in Asia to increase production, so Adidas can pounce while it's hot. But more than being quick on his feet, perhaps Gulden's biggest asset is his acceptance that Adidas, which hasn't been the world's largest sneaker company for 40 years, should stop trying to beat Nike at its own game.
"We don't have a German street culture to export, so we need to do it in a different way," he said on a recent call with investors. His new plan carries echoes of Strasser and Moore: go after every type of athlete, even with less lucrative gear such as wrestling shoes or ski boots. Then lean more heavily on such cultural hotspots as LA, Shanghai and Tokyo to generate designs for the cool stuff. "Adidas has a special DNA that should have a business model different than anybody else."
Not everyone's as ready to move on. In late April, investors claimed in a suit filed in federal court in Oregon that Adidas had for years violated securities laws by not fully disclosing the risks it knew were associated with the Yeezy partnership. The company "made untrue statements of material facts or omitted to state material facts" that would have caused Adidas' share price to fall, the plaintiffs allege. Adidas disputes that allegation, saying it rejects these "unfounded claims and will take all necessary measures to vigorously defend ourselves against them".
After months in limbo, many of the 90 or so Adidas staffers who worked on Yeezy in Portland and LA have finally received their new assignments. Ye, meanwhile, has disappeared almost entirely from the public eye. He's stopped contacting many of his close friends, former lawyers and business associates.
On May 31, when Adidas was due to begin selling its stockpile of Yeezys, the sneaker giant was betting that the public would focus on its stand against "discrimination and hate," and not on Ye, who would probably emerge, at least briefly, to cash a very hefty cheque. While Adidas will donate some of its Yeezy proceeds to organisations such as America's Anti-Defamation League and a nonprofit run by George Floyd's brother, it's still on the hook for 11 per cent of royalties for every existing pair sold. Which means, if sneakerheads buy up all the Yeezys from Adidas' warehouses, the company could still have to pay Ye somewhere in the ballpark of $US150 million.
Bloomberg Businessweek