If you're tired of running to the ATM to give your kids cash for allowance or receiving crumpled dollar bills back after they've bought snacks with friends, it's time to get them a debit card of their own. 
Banks, credit unions, financial technology companies and even investment firms all offer debit cards geared toward under 18-year-olds. The best options allow children and teens to begin mastering money management, while keeping them from getting into too much trouble thanks to a range of parental controls. 
Choosing the right card for your child can be tricky though. Perks and safety features vary, as does the cost to use different cards. Whether your top concern is limiting spending, teaching budgeting or investing—or simply stopping your kids from treating you like a cash machine—we've got you covered with our top debit cards for children and teens.
---
Best overall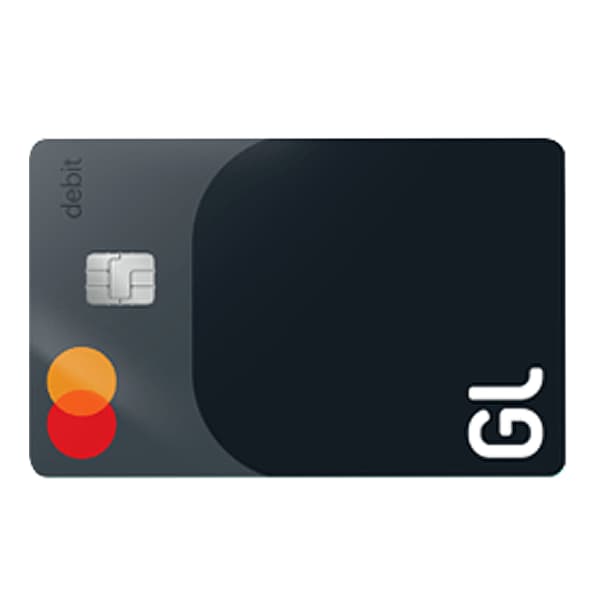 Fee: $4.99, $9.98 or $14.98 a month, depending on plan

Age: under 18

Interest rate of 1%, 2% or 5% on up to $5,000 in savings

Cashback: up to 1% back on all debit purchases
Why we picked it: Financial technology company Greenlight's debit card stands out for its robust suite of parental controls, easy-to-use app and educational tools that meet national K-12 financial literacy standards. These features make it the ideal choice for parents and guardians looking to give kids of all ages some financial freedom while maintaining a guiding hand in their money decisions. 
With Greenlight, children receive a physical debit card with their name on it. The card is linked to a prepaid account that cannot be overdrawn, sparing you costly charges and giving them space to learn to manage their spending. (Your child's funds will be held at Community Federal Savings Bank, which is FDIC insured.)
Parents can opt to receive real-time notifications every time the card is used or declined. Through the app, they can also access a record of account activity; turn the card on and off; set limits on ATM withdrawals and spending by category or store; and choose specific stores where the card will or won't work. 
Greenlight also simplifies allowance. Parents can create a list of recurring chores or one-time tasks and set a financial reward for completion. Or put allowance on autopilot, paying the same amount at a specified time weekly, biweekly or monthly. Working teens can also have their paychecks deposited directly into the account.
Money in a child's Greenlight account can be separated into buckets for spending, saving and giving. Greenlight offers a roundup feature, which moves the change from purchases into savings, and allows parents to contribute by paying their chosen interest rate on a kid's balance.
In addition to its abundance of customizable features, Greenlight also rises above other kids debit cards thanks to the educational tools and games included in its app. These fun challenges provide bite-sized money lessons, exposing children to concepts such as compound interest. 
You can access all those benefits with Greenlight's cheapest plan, Greenlight Core, which costs $4.99 a month for up to five children after a one-month free trial. More premium options—which ring in at $9.98 and $14.98 a month—include investing functions and identity theft protections, as well as cash back and more generous interest payments
Up to $5,000 in savings can earn 1%, 2% or 5% in interest, depending on the plan you chose. Under Greenlight's more expensive Max and Infinity options, kids also earn 1% cash back on all debit purchases, which is added to their savings each month.
Caveats: You will need to pay a monthly fee of $4.99 to use Greenlight's card, more for premium options. Annoying as it might seem to pay to help your child spend your money, Greenlight's cost is in-line with fees charged by rivals. Of course, there are free options—you will find some highlighted below.
---
Best free debit card for teens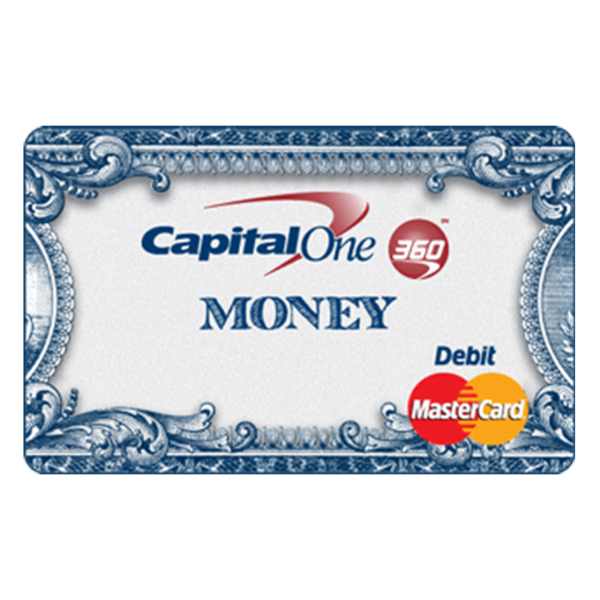 Capital One Teen Checkings Account
Fee: $0

Age: 8 to 17 years old

Interest rate of 0.1% on all balances

Fee-free access to more than 70,000 ATMs
Why we picked it: If your child is ready to manage their money with limited oversight Capital One provides a solid—and free—debit card option with its Money teen checking account. Designed for teens, the account has no monthly maintenance cost, balance requirements, subscription charges or overdraft fees.
For responsible teens, particularly those working a part-time job, it provides benefits many other accounts don't. Teens get their own checking account, which pays 0.1% interest on all balances, a physical debit card and fee-free access to more than 70,000 ATMs. They can also make mobile check deposits, set up direct deposit and section off funds by savings goal. 
Parents can receive text or email notifications about card transactions. Through the Capital One app, they can autopay allowance, track account activities, and lock the debit card. Teens ages 13 or older can use Zelle to send and receive payments, but only with a parent's consent. The account's default setting limits ATM withdrawals and purchases to $500 a day, but parents who want to set that bar lower can call to do so. 
The other great thing about Capital One's debit card: Parents don't need their own account with the bank to get one for their children. Most other free checking account options for children require an adult to have an account first and to keep that account open in order for the child to maintain access.
Caveats: Some common parental controls seen with debit cards for under-18s are missing, such as the ability to set spending limits for certain stores or expense categories, block card usage at specific retailers or reward specific chores. So while the account is open to children ages 8 or older, it's better suited to teens who have experience managing money and require less supervision.
---
Best free debit card for younger kids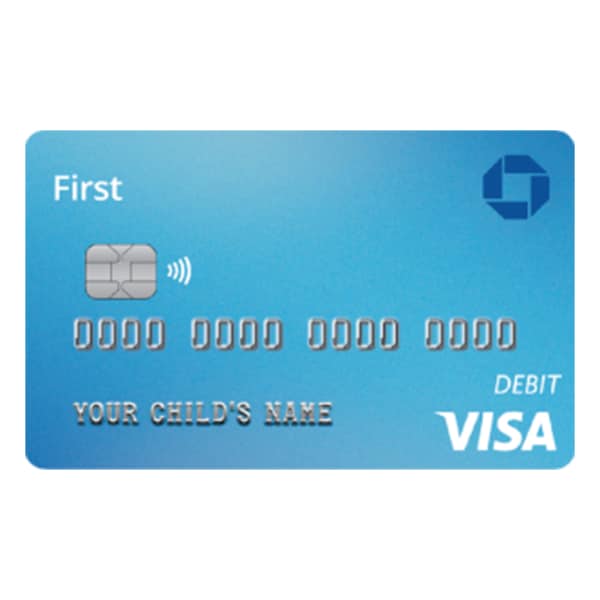 Fee: $0

Age: 6-17

Fee-free access to 15,000 ATMs
Why we picked it: For parents looking to exercise a bit more control over their child's spending without spending anything themselves to do so, Chase's First Banking account debit card provides the ideal blend.
Chase charges no monthly maintenance fee, subscription costs or overdraft fees, and doesn't require any minimum balance to keep this debit card account open, but a parent must be an existing Chase customer with an active checking account in good standing to get one for their child.
While kids can use their own physical debit card to make in-store and online purchases, access 15,000 Chase ATMs free, and request money from a parent, their ability to freely spend can be tempered thanks to a range of customizable parental control options. Parents can receive alerts when their child uses the card, set limits on where or how much a child can spend, autopay a recurring allowance or assign one-time chores with a specific payout. 
Through Chase's "place to spend" designation, parents can also dictate that a certain amount of money in the account only be used on either a broad category like restaurants or with a specific merchant. This could be useful if, for instance, you wanted to make sure that your child was using the $20 you gave them each week to buy lunch at their school cafeteria and not for other things. The account doesn't allow users to set up Zelle or direct deposit and limits daily ATM withdrawals to $100. 
Caveats: Limitations regarding Zelle, direct deposit and ATM usage mean the Chase First Banking Debit Card may not be a good fit for older kids. If your teen has a part-time job or regularly needs to repay friends for gas or shared meals, this card will likely cause more headaches than other options like the Capital One MONEY Teen checking account, which doesn't have as many restrictions. 
---
Best for building credit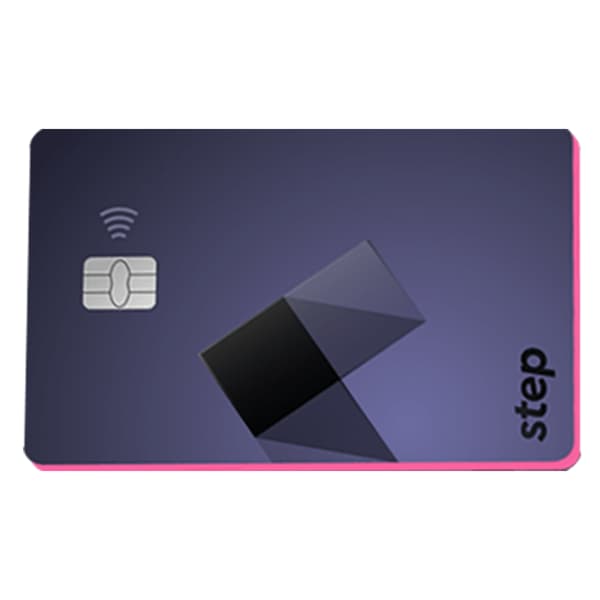 Fee: $0

Age: under 18

Interest rate of 5% with direct deposit of $500-plus

Fee-free access to 30,000 ATMs

Rewards: Between 1-3 points earned on certain purchases with direct deposit
Why we picked it: The Step Visa stands out for providing the ability to boost your teen's credit score—a feature not offered by any rival and one that can set your child up for a solid financial future. This is possible because the Step Visa Card is not technically a debit card, though it functions very similarly. 
Instead it's a secured credit card. Secured cards require a cash deposit equal to their credit limit, meaning users of the Step card cannot overdraft, overspend or rack up interest charges on an unpaid balance. (While the Step card is designed for teens, it can be used by anyone to build a credit history and is one of Buy Side's picks for best secured credit cards.)
Step reports that when its average teen user turns 18, they have a credit score of 723. That's a good score that could mean a lower interest rate on a student loan or car loan in their own name. 
Working teens who set up a direct deposit of $500 or more a month can tap in to a host of other perks. 
Any money they put into savings will earn 5% interest on up to $250,000. And, like a credit card, the Step Visa offers points for purchases that can be converted into cash. Step offers 3 points per dollar spent at specific merchants that change monthly; 2 points on dining, food delivery, and charitable donations; and 1 point on entertainment, games and streaming. Each point is worth 0.01 cents, meaning 500 points equals $5.
Teens can also track their spending, send money to family and friends, and withdraw funds from 30,000 ATMs fee-free. Step charges no monthly maintenance fee and doesn't require a minimum balance.
Caveats: Children cannot begin building credit in their own name until they are 18. So Step won't report the card's payment history to the three credit bureaus—TransUnion, Experian and Equifax—until your child turns 18. Then it can only share two years' worth of previous data, so this account makes the most sense for older teens whose card usage will actually impact their credit score. 
However, under-18 users must have an adult "sponsor" their account and this person must be willing to create a Step account too. As a sponsor, parents can track and view all account activity, add money to the account, set up recurring payments for allowances, and freeze and unfreeze a teen's card. Parents' control over how much and where their teens are spending, however, is limited. 
---
Best for investing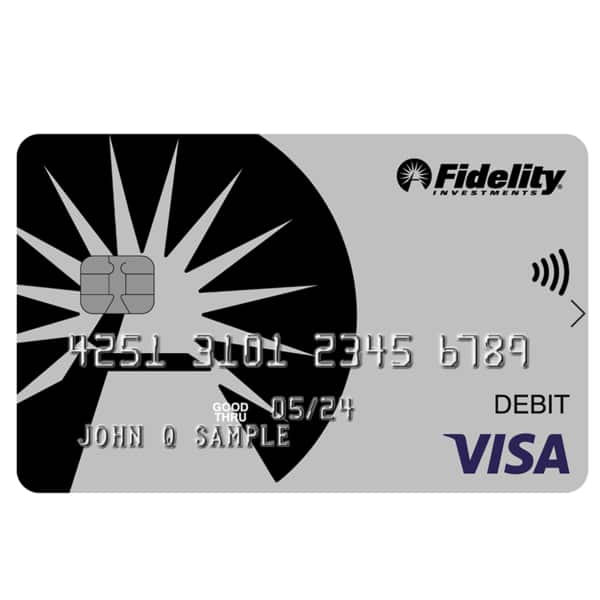 Fee: $0

Age: 13-17

Sign-up bonus: $50

ATM fees reimbursed
Why we picked it: Parents interested in helping their children master more than basic money management, should consider a Fidelity Youth Account. Open to teens ages 13 to 17, this option combines debit card usage with a teen-owned brokerage account, allowing them to spend, save and invest all in one place—at no cost.
While some other children's debit accounts also offer investing, most charge extra for this. For instance, our overall winning pick Greenlight requires you to upgrade to its $9.98 a month plan to access investing.  
Fidelity's stock market exposure, on the other hand, comes with no subscription fees, account fees, trading commissions or minimum balance requirements. Plus, the company will put $50 in the account as a welcome bonus and reimburse any domestic ATM fees incurred. (A parent must have an existing Fidelity brokerage account to open one for their teen.)
Teens can invest with as little as $1 and enjoy a large amount of freedom in how they spend and use their money. It is not a joint or custodial account, which means teens can act as the sole decision maker and don't need to rely on an adult to manage it for them. Fidelity does provide some safeguards, preventing teens from engaging in riskier behaviors such as after-hours trading, short selling or participating in initial public offerings. There are also restrictions on buying certain types of securities such as penny stocks and cryptocurrencies. 
Parents have full visibility and can receive alerts for all trades and debit card transactions. An adult must initiate and approve the account's opening, and they can close the account or cancel the debit card at any time.
Fidelity also offers a Youth Learning Center online and in its app that provides explainers on common money topics, like what ETFs, stocks, and mutual funds are, why diversification is important, and how to figure out your risk tolerance.  
Caveats: The lack of strong parental controls and the possibility that teens could lose some or all of their investments, makes this account better suited to responsible kids who understand the risks and rewards of investing and can be trusted to self-budget.
Parents should also know that if they open a Fidelity Youth Account, their teen will be able to see information about any other Fidelity accounts in which they're a named beneficiary (such as with a Uniform Gift to Minors Act account), or which were established for them (such as a Roth IRA for minors). While they cannot make any changes to these accounts or perform any activities within them, your teen could learn about college savings, inheritances or other monetary assets that you may have been waiting to share with them till later.  
---
How we picked
To pick Buy Side from WSJ's Best Debit Cards for Kids and Teens, we looked at card options available to those under the age of 18, including prepaid debit cards, checking account-linked debit cards, secured credit cards and brokerage account-linked debit cards. To pick the best ones, fees to open or maintain the account were most heavily weighed, followed by the range of parental controls available and other perks offered, such as interest payments, rewards, or educational tools. We also favored cards that were easy to obtain and for parents to monitor with a well-reviewed app experience. 
The advice, recommendations or rankings expressed in this article are those of the Buy Side from WSJ editorial team, and have not been reviewed or endorsed by our commercial partners.