In April of 2019, Apple teamed up with global investment banking firm Goldman Sachs to unveil the Apple Card. Launched that summer, iPhone users can apply right from their handset and have the virtual card show up in the Wallet app all ready for use with Apple Pay. A physical titanium card can be requested with the user's name, and only the user's name etched on it. In other words, the physical card will not show a card number, expiration date, or security code.
What makes the Apple Card attractive, even for those who don't profess their love of all things Apple, is the lack of fees. There are no fees for making late payments, putting your account over the credit limit, or paying for an annual membership. With Daily Cash, cardholders get 3% cash back on Apple Pay purchases made using the Apple Card at the Apple Store (both physical and online), the App Store, Uber and Uber Eats, Walgreens, Nike, Panera Bread, T-Mobile, ExxonMobil, and Ace Hardware.
Apple Card holders can have their Daily Cash balance swept into the Apple Card savings account daily

With other retailers that accept Apple Pay, using your Apple Card will earn you 2% cash back. And if you use the Apple Card at retailers that don't accept Apple Pay, you get 1% back. This past April, the Apple Card savings account was born with no fees and no minimum balance is required. A cardholder's Daily Cash balance can be swept into the account to earn interest.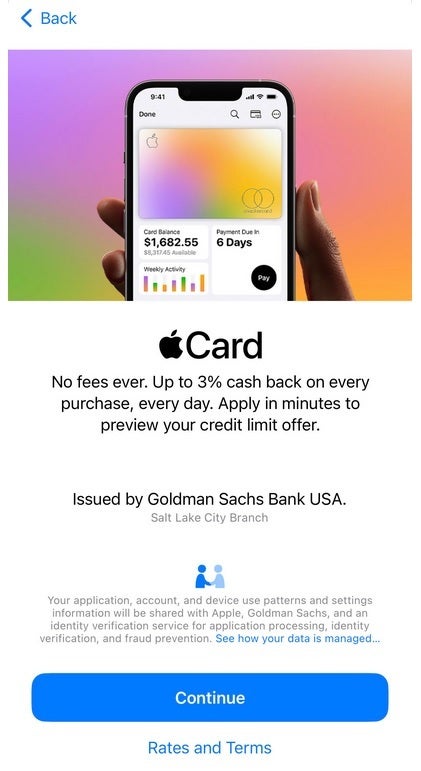 iPhone users can apply for the Apple Card directly from the Wallet app
But teaming with Apple for the Apple Card seems to be hurting Goldman Sachs. During the first nine months of 2022, Goldman placed $1.2 billion into its loan-loss provisions. A bank will do this if it expects that it will take a bath on its credit card operations due to the failure of cardholders to repay their debt. While Goldman didn't specifically say where this $1.2 billion was coming from, analysts believed that the Apple Card was mostly responsible.
Goldman Sachs could turn over the Apple Card portfolio over to American Express

Last week,
The Wall Street Journal
reported that Goldman might be looking to dump the whole Apple Card mess on American Express (Amex). On the surface, Goldman agreed to continue its partnership with Apple through the rest of this decade and it supports the tech giant's "buy now, pay later" offering. And as we said, it opened the Apple Card savings account just this past April.
The Journal says that Goldman is looking to reduce its exposure to the consumer side of the banking business and besides its credit card partnership with Apple, it has one with General Motors that it would love to also lay off to Amex. Any deal involving the Apple Card would have to be approved by Apple and there is no definitive deal with Amex that is imminent according to people in the know.
Goldman Sachs CEO David Solomon, speaking with analysts last October, said about its dealings with Apple, "It's a very, very strong partnership where there's a lot of opportunity." Goldman Sachs might exit the consumer credit business, but it has no plans to stop accepting consumer deposits.
The Wall Street Journal
report was later repeated by CNBC. A source told the markets-oriented cable channel that Goldman Sachs is in talks to exit the Apple Card business and the high-yield Apple Card savings account and transfer both to American Express. Many times in a situation like this, if two independent sources agree, the deal is as good as done.
To apply for the Apple Card, open the Wallet app on your iPhone, tap the "plus" icon on the top right corner of the screen, and tap on "Apply for Apple Card." Keep in mind though, that if Goldman Sachs does turn the Apple Card portfolio over to Amex, it is uncertain what changes might be made that would affect cardholders.