Now in its third year, Incognito also appeals to artists as a "democratiser" of what can be a snobbish and mercenary industry, Mr Liston said.
"Our feedback from the artists is that they get a kick out of someone buying their work based purely on what it looks like or how it makes them feel, not a calculation on whether it's a name that will increase in value," he said.
"The bigger artists like that it gives an ordinary person a chance to own their work. Some of them also take the opportunity to go off-piste, and produce something outside their usual style."
However, Julia Gutman hinted that the painting materials which brought her to fame this year when her portrait of singer Montaigne snared the $100,000 Archibald Prize – found textiles and embroidery, layered over traditional oils – might also be recognisable in her Incognito work.
Ms Gutman added that she was happy to sell a painting for $100, even as her other works enjoy a rise in price after her Archibald win.
"Studio A is doing such amazing work, and I love the Incognito," she told The Australian Financial Review.
"Not only as a format that makes living with art accessible to more people, but also as a playful way for audiences to develop a genuine connection with the work they choose."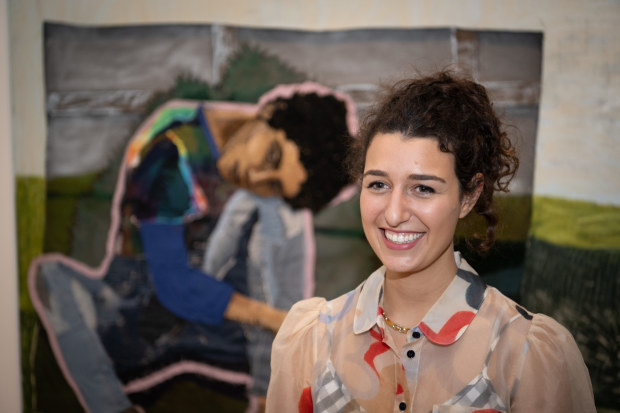 Other prominent artists who have painted original works for Incognito this year include 2023 finalists from Australia's three biggest art competitions. There are 12 Archibald Prize finalists including Eliza Gosse and Abdul Abdullah; three Wynne Prize finalists in Joan Ross, Miranda Hine and Jason Phu; and Sulman Prize finalists Marisa Purcell and Jessica Nothdurft.
Mr Liston gave credit for the rapid traction Incognito had gained among artists to another of his co-founders, well-connected Sydney artist (and another of the Archibald finalists to have contributed works this year), Laura Jones.
"We joke that Laura was at the top of the pyramid scheme," Mr Liston said.
"She got all her artist mates on board the first year and the word has just spread."
Incognito's other co-founder is Mr Liston's brother, Ed, a veteran marketer who has been instrumental in building the show's social media presence, including its more than 40,000 Instagram followers.
The social media tags and contact details of the artist appear on the back of their paintings for Incognito, with the hope that new fans and commissions for emerging artists will be the result.
One of Mr Liston's other side hustles is a business making prints from original artworks and photographs, which he admits is an indirect beneficiary of Incognito.
"You make artworks affordable, like in a print or what we're doing with Incognito, and it can be a gateway drug to a lifetime of appreciating and collecting art," he said.
The anonymised artworks available for sale at Incognito Art Show can be viewed beforehand at www.incognitoartshow.com. They will be sold only in-person on a first-come, first-served basis at 17 Oxford St Paddington from 8am on Saturday June 15.