Overview

Argentina is no stranger to lithium mining. The South American nation is one of three encompassed in the prolific Lithium Triangle, a region that holds more than half of the world's lithium deposits. About 70 percent of global lithium reserves lie beneath Argentina's salt flats concentrating lithium operations in the provinces of Jujuy, Salta and Catamarca.
Amidst electrification and decarbonisation, analysts are forecasting a global supply deficit of 89,000 tonnes of lithium carbonate equivalent (LCE) in 2023 and the Argentinian government aims to double down on lithium to meet the increasing demand. Argentina expects a US$4.2bn investment in its lithium sector and projects to produce about 50,000 tonnes of lithium in 2022.
Galan Lithium Limited (ASX:GLN) is an Australian-based international mining development company focused on its high-quality lithium brine projects in the world-class Hombre Muerto region in Argentina and its highly prospective lithium JV project in Australia.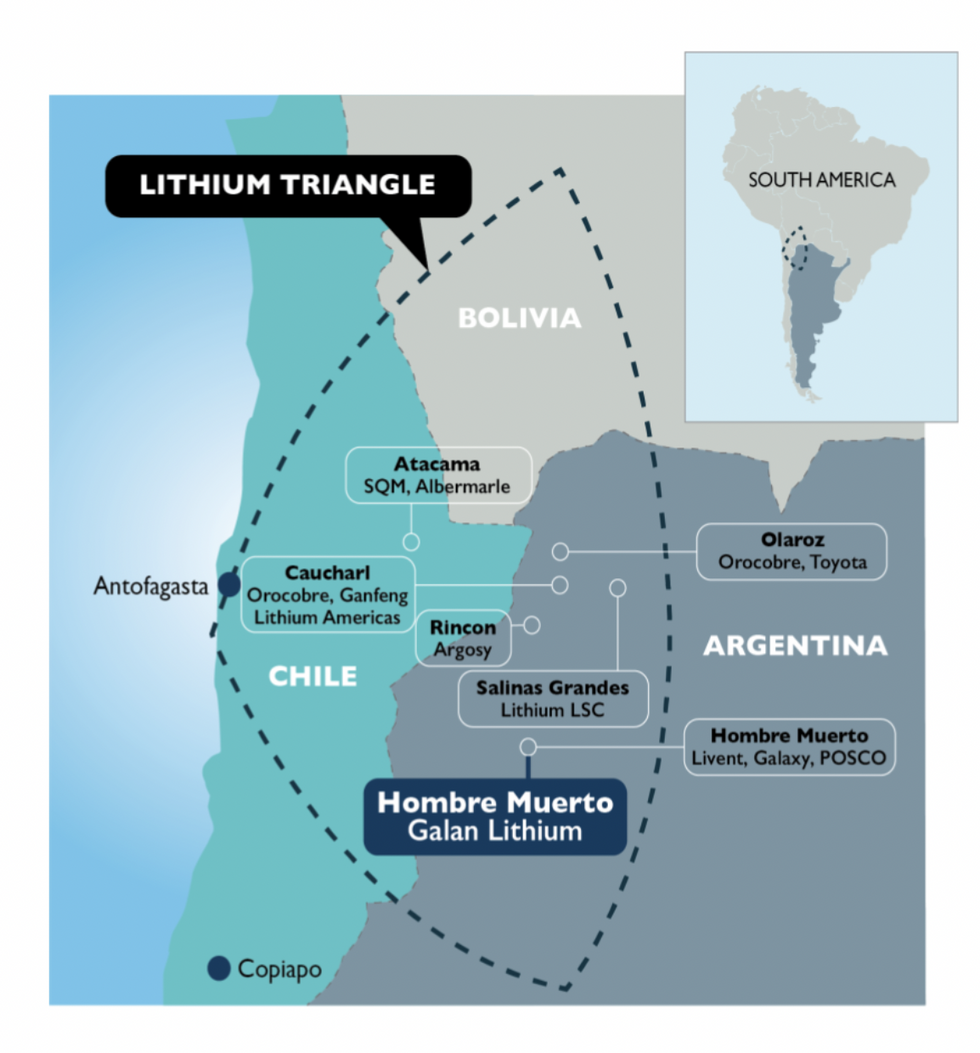 The company's flagship Hombre Muerto West (HMW) project hosts some of Argentina's highest grade and lowest impurity levels with an inventory of 2.3Mt LCE. The 100 percent owned property also leverages close proximity to Livent Corporation's El Fenix operation and Galaxy Resources and POSCO's Sal de Vida projects. Extensive groundwork has demonstrated the significant potential of a deep basin on the property, warranting exciting advanced exploration.
Galan's secondary Candelas project comprises a sizable valley-filled channel with a potential indicated presence of substantially high volume brine characteristics. The project's maiden resource estimates stand upwards of 685ktLCE according to surveying from October 2019 and demonstrate exceptional discovery opportunities across this unexplored asset.
In January 2021, Galan acquired 80 percent of the Greenbushes South lithium project from Lithium Australia NL. The project boasts advantageous positioning three kilometers south of the prolific Greenbushes lithium mine owned by Talison Lithium Pty Ltd., a notable lithium exploration company that operates one of the world's largest, highest-grade, hard rock spodumene deposits. Galan's joint venture project has the potential to see similar large-scale discoveries and high-grade lithium mineralisation across its Greenbushes South property.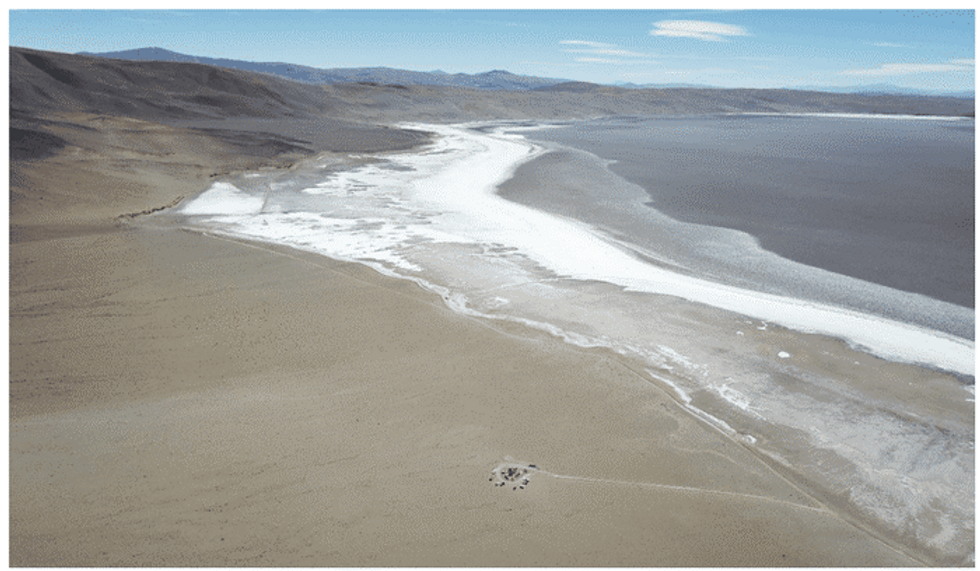 Partial aerial view of HMW with drilling at Pata Pila in the lower part of the picture
Galan announced the results of its phase 1 definitive feasibility study (DFS) for HMW with an initial 5.37 ktpa lithium carbonate equivalent (LCE) operation targeting 6 percent concentrated lithium chloride product in the first half of 2025. Highlights of the DFS include:
A post-tax NPV of 8 percent of US$460 million, IRR of 36 percent and free cash flow of US$54 million per year, facilitating Galan's funding for further expansions.
Capex before contingency of US$104 million and opex of US$3,963/t of recoverable LCE contained in concentrated lithium chloride product; Phase 1 costing in the first half of world lithium cost curve.
Approximate two-year payback from the commencement of production.
Significant economic upside in the phase 2 DFS (20 ktpa LCE), due in September 2023; with Phase 2 production expected in 2026.
The HMW phase 1 DFS delivers an annual production rate of 5,367 recoverable tonnes of LCE contained in a concentrated lithium chloride product for a period of 40 years.
Galan completed its first exploration sampling and mapping work at the Greenbushes South Lithium project. Reports from the geochemical survey showed 425 soil samples and 14 rock chip samples taken at the northern edge of Galan's E70/4790 tenement and at the mapped location of the Donnybrook-Bridgetown Shear Zone (DBSZ). The DBSZ a primarily associated with syntectonic emplacement of the lithium-bearing pegmatites of the Greenbushes mine to the north.
Galan Lithium Limited has a highly experienced management team with over a century of professional expertise in the resource, finance and energy sectors. This results-oriented board and their vested interest in company success prime Galan for exceptional discovery potential and advanced development of its high-quality projects.
Company Highlights

Galan Lithium Limited is an ASX-listed company developing lithium brine projects within South America's lithium triangle on the Hombre Muerto salar in Argentina.
The company has three high-quality projects in the works, including its flagship Hombre Muerto West (HMW) and Candelas lithium projects in Argentina and Greenbushes South lithium project in Australia.
The Hombre Muerto project leverages advantageous positioning near notable mining operations, including Livent Corporation's El Felix project and hosts exceptional high-grade lithium and low impurity drilling possibilities.
Geophysics has indicated Candela's potential to host a substantial brine volume and provide significant amounts of processing water through low-grade brine treatment without using surface water from the Los Patos river.
Galan acquired 80 percent ownership of the Greenbushes South lithium project through the sale and joint venture with Lithium Australian NL.
Galan aims to transition into a major lithium project developer and remains committed to conducting fast-tracked lithium carbonate production in its prolific and mining-friendly jurisdictions of operation.
Galan's HMW definitive feasibility study (DFS) delivers an annual production rate of 5,367 recoverable tonnes of lithium carbonate equivalent (LCE), contained in a concentrated lithium chloride product for a period of 40 years.
HMW mineral resource estimate increased to 6.6 million tons LCE @ 880 mg/l lithium at 72 percent in the measured category.
The pilot plant construction is progressing well with the main pond completed with brine filling imminent and evaporation piloting to follow.
Key Projects

Hombre Muerto West Project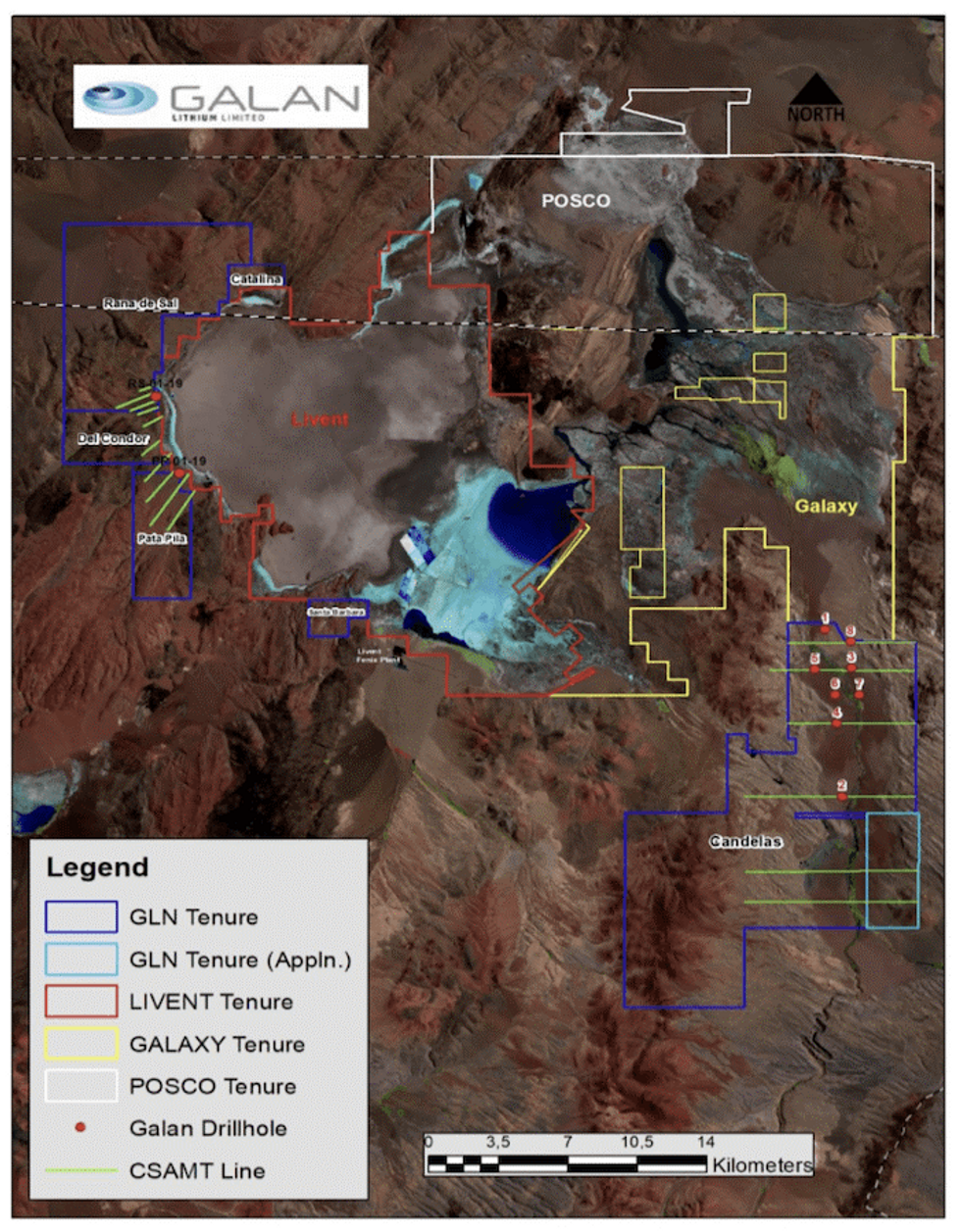 Tier 1- Location Worldwide for Li Brines
The 100 percent owned Hombre Muerto West project (HMW) is a large land property that sits on the west coast of the Hombre Muerto salar in Argentina, the second-best salar in the world for the production of lithium from brines. The property also leverages strategic positioning adjacent to notable competitors like Livent Corp. to the east.
The company has reported a combined total indicated resource of 2.3 million tonnes LCE at 946mg/l lithium. Additionally, the project hosts some of the lowest impurities and best grades in Argentina across its rich geological profile comprising groundwater sourcing volcanic rocks, faulting and hydrothermal activity. A December 2019 drilling campaign reported airlift test sampling of 1,010mg/l lithium over an approximately 330-meter interval, which confirmed outstanding grade averages at its main Rana de Sal target.
Galan has conducted a compelling scoping and PEA study, which revealed a competitive CAPEX of US$338 million, a low OPEX of US$3,518/t LCE and a production rate of 20ktpa targeting battery-grade lithium carbonate across the property. Galan ended 2021 with stronger and more compelling HMW economic study completed indicating unleveraged pre-tax NPV of US$2.2 billion, an IRR of 37.5 percent and less than three years of payback period. The company also revealed a resource of 2.3Mt LCE @ 946 mg/l Li for HMW.
Candelas Project
The Candelas project is a 15-kilometer by 4-kilometer property along the prolific Los Patos channel in Argentina. The Rio Los Patos currently accounts for approximately 79 percent of incoming waters in the salar, creating world-class lithium draining opportunities from source rocks in the Cerro Galan volcano. Project geophysics and drilling have indicated the potential for Candelas to host a substantial volume of brine and upwards of 685kt LCE in maiden estimated resources.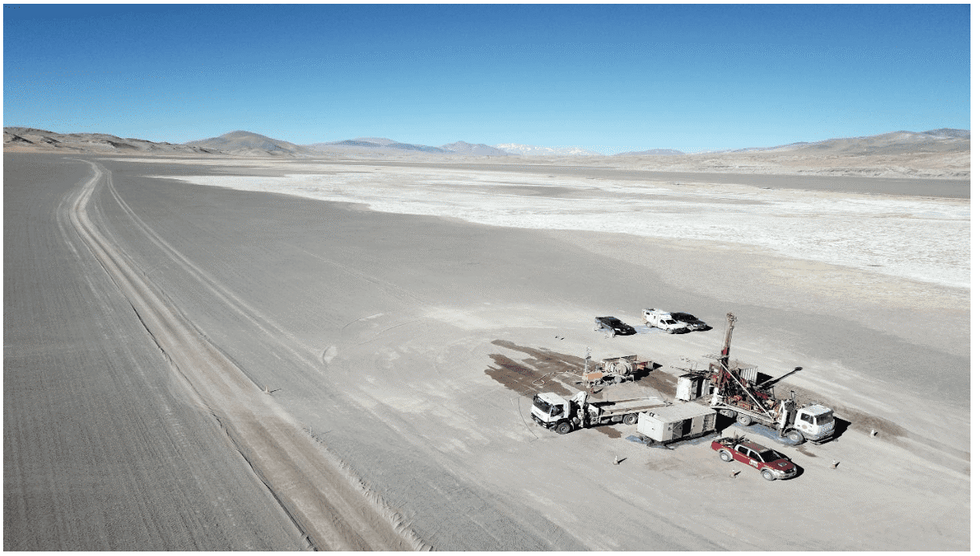 Drilling at Candelas looking south.
The Preliminary Economic Assessment (PEA) for the Candelas project showed a Pre-tax NPV of US$1,225 million at an 8 percent discount rate and an IRR of 27.9 percent with a four year payback period. Candelas has a life projection of 25 years of 14ktpa of battery grade lithium carbonate (LCE). The cash production cost for Li2CO3 is at US$4,277/t, positioning the Candelas project as a low-cost developer in the lithium industry.Candelas also leverages potential for evaporation pods, processing infrastructure and has access to great, fresh process water. This advantageous positioning and exceptional geological and resource profile pose Candelas as a highly prospective world-class soluble lithium deposit.
Greenbushes South Lithium Project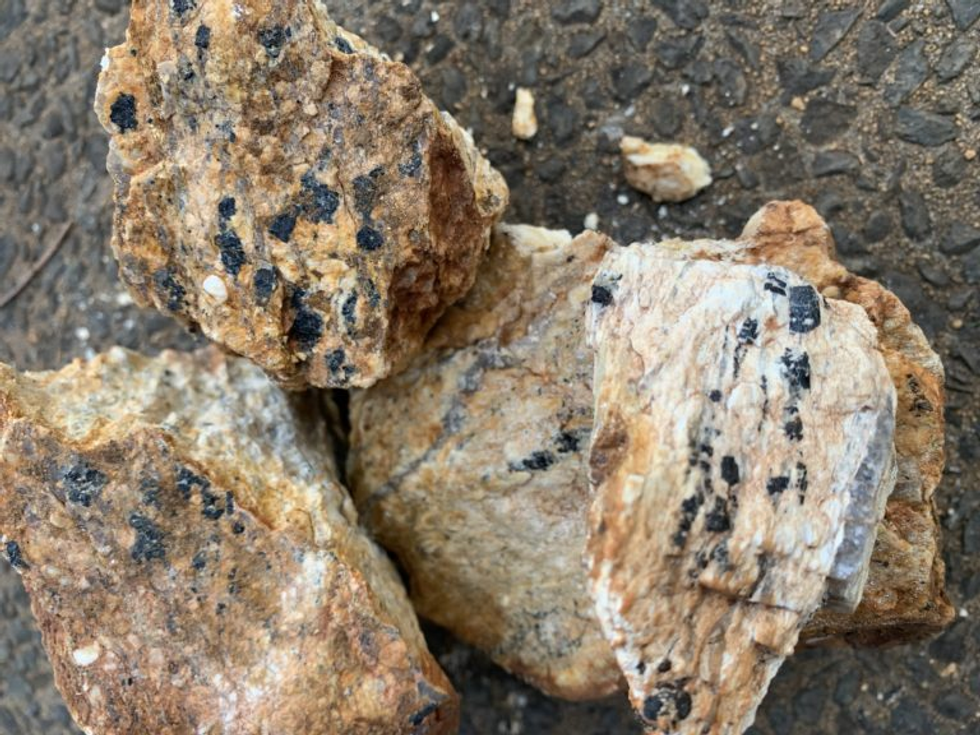 The Greenbushes South lithium project covers approximately 43 square kilometers located three kilometers south of the world-class Greenbushes lithium mine, owned and managed by Talison Lithium Pty Ltd. Galan acquired 80 percent of the project from Lithium Australia NL in January 2021, including a 100 percent interest in an exploration license application (E70/4629).
The Greenbushes Lithium project and map of arsenic (AS) anomaly in laterite soil.
Greenbushes South hosts elevated abundances of pathfinder elements with well-defined anomalies adjacent to the property. The company has completed a review of the property's datasets and historical laterite geochemistry data and remains excited to explore and develop its highly prospective project.
Galan's project acquisition of Greenbushes South secures and consolidates a significant package of exploration ground hovering upwards of 396 square kilometers. The company completed its first exploration sampling and mapping work at the Greenbushes South Lithium project aimed to identify and map the surface expression of the DonnybrookBridgetown Shear Zone (DBSZ) that hosts the Greenbushes deposit.
Recent mapping indicates the major geological structure hosting the world classGreenbushes LCT pegmatite transects the current holdings. Furthermore, soil and rock chip samples show continuation of anomalous levels of pathfinder elements associated with Greenbushes Li-Ta-Sn mineralisation. Galan would continue targeted sampling and potential future localised geophysical work.
Management Team

Richard Homsany – Non-Executive Chairman
Richard Homsany is an experienced corporate lawyer and has extensive board and operational experience in the resources and energy sectors. He is executive chairman of ASX listed uranium exploration and development company Toro Energy Limited, executive VP of Australia of TSX listed uranium exploration company Mega Uranium Ltd. and the principal of Cardinals Lawyers and Consultants, a boutique corporate and energy & resources law firm.
He is also the chairman of the Health Insurance Fund of Australia Ltd (HIF) and listed Redstone Resources Limited and Central Iron Ore Limited and is a non-executive director of Brookside Energy Ltd. Homsany's past career includes time working at the Minera Alumbrera Copper and Gold mine located in the Catamarca Province, northwest Argentina.
Juan Pablo ('JP') Vargas de la Vega – Managing Director and Company Founder
Juan Pablo Vargas de la Vega is a Chilean/Australian mineral industry professional with 18 years of broad experience in ASX mining companies, stockbroking and private equity firms. JP founded Galan in late 2017. He has been a specialist lithium analyst in Australia, has also operated a private copper business in Chile and worked for BHP, Rio Tinto and Codelco.
Daniel Jimenez – Non-Executive Director
Daniel Jimenez is a civil, industrial engineer and has worked for a world leader in the lithium industry, Sociedad Química y Minera de Chile, for over 28 years. He was the VP of Sales of Lithium, Iodine and Industrial Chemicals where he formulated the commercial strategy and marketing of SQM's industrial products and was responsible for over US$900 million worth of estimated sales in 2018.
Christopher Chalwell – Non-Executive Director
Christoper Chalwell has been involved in the gas to coal conversion of the Mica Creek Power station in Mt Isa and the Pasminco Century Mine in North Queensland. He also holds extensive experience with feasibility studies, commercial reviews for project funding, contract appraisal and award.
Terry Gardiner – Non-Executive Director
Terry Gardiner has over 20 years of experience in capital markets, stockbroking & derivatives trading. Prior, Gardiner had many years trading in equities & derivatives for his family accounts. Gardiner is currently a director of stockbroking firm Barclay Wells Limited and a non-executive director of Cazaly Resources Limited.
Jinyu (Ramond) Liu – Non-executive Director
Jinyu Liu is a mining executive with over 13 years of experience in the resources sector. He possesses a results-oriented track record developed in deal origination, project evaluation, negotiation, due diligence and capital raising. Liu is the founding managing partner of Havelock Mining investment, a Hong Kong investment company and has been involved with numerous ASX-listed companies. Liu is currently a director of Okapi Resources Ltd and Heritage Minerals. He previously held investment and technical roles at Fosun International, Rio Tinto, KCGM and Mt Gibson Iron.
Graeme Fox – Chief Financial Officer
Graeme Fox is an Australian CPA qualified accountant and experienced business analyst, with over 25 years of experience in the mining, contracting and transport industries, with a focus on strategic planning, financial modelling, investment evaluation, management accounting and compliance. During the last 20 years, Graeme's career has been focused on the resources sector, including diverse roles throughout the value chain, working with BHP, WMC & Macmahon.