It can be difficult to be a young artist.
This statement might sound obvious, even trite, on the surface, but I can't recall a time in San Diego where the hurdles seemed so high, the barriers so reinforced. Yes, there's the existential dread that comes with choosing a career path in the arts. And sure, it can be creatively fulfilling, but success is often not guaranteed or even definable.
Compounding that with the high cost of living, expensive materials and the stagnant wages of multiple jobs and side hustles, it's a wonder any young artist has the time or energy to devote themselves to an artistic practice.
Every now and again, however, I meet an artist who gives me hope that there is, in fact, a way forward. Such is the case with Helena Westra, arguably one of the more promising young artists in San Diego.
At 23, her work — a distinctive mix of sculpture, ceramics, woodworking and mixed-media — has already been displayed in a number of group shows. Most recently, she was named a "2023 Artist in Residence" at Art Produce, a longstanding creative arts space in North Park.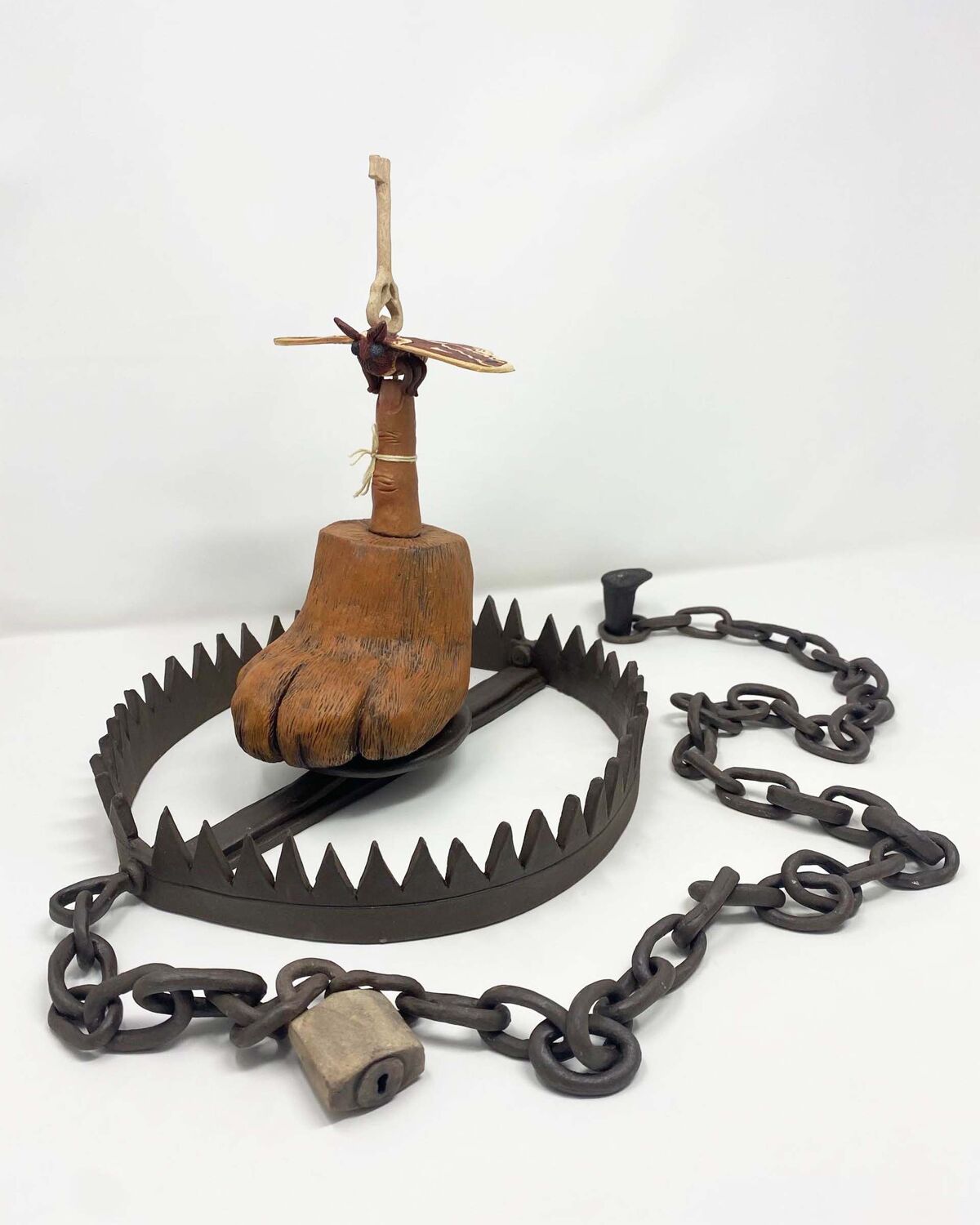 "I feel like I'm at a stage of very weird unknown and uncertain growth," says Westra, who commutes to North Park six days a week from Escondido, putting in as many hours as she can at Art Produce's "Cooler Room" space. "Just being on this edge of a cliff and not really knowing what kind of parachute I have or what the bottom looks like. Maybe it's not a cliff, maybe there's more climbing to do, I'm not sure, but I'm excited by it."
Not everyone has that drive, that compulsion, to see what's at the bottom of the proverbial cliff. The fear of failure, or even the failure itself, can drive many young creatives to more practical pursuits. Speaking with Westra, I get the sense that she's often thought about this herself.
Only a few years ago, she says she had to drop out of UC Santa Cruz after failing nearly all of the courses within her ecology and evolution major. She left the college dispirited and says she went through something of a "quarter-life identity crisis" before signing up for classes at MiraCosta College in Oceanside.
It was there, under the tutelage of Yoshimi Hayashi, a ceramics and installation artist and chair of the community college's art department, that her passion for her practice really took shape. Westra says that Hayashi insisted that she change her major to art and she credits him with opening her eyes to new ways to work within ceramics.
"With a field like ceramics, yes, there's a sculptural side to it, but it's still very technically based and there's a lot of things you can't do or aren't supposed to do," Westa says. "There's a whole craft side to it, being on the wheel and crafting these perfect cups and teapots, and that wasn't something I connected with in terms of clay. I don't like rules and I don't like people telling me what to do."
This sense of experimentation and rule-breaking is evident in the pieces she's produced since returning to San Diego in 2019.
Take for example, "Now I lay me down to rest: A Controlled Burn," a 2022 ceramic sculptural and performance art piece she created as part of the Landmarks of Art initiative in Anza Borrego.
Westra created what is essentially a human skeleton out of greenware clay and then constructed a body around it using a handmade quilt and hay. She then burned the body in a makeshift funeral pyre, essentially firing the ceramic pieces within the flames. Once the fire had reached embers, she buried the piece, waited, and then dug up the items to reconstruct the body.
The result, which was later displayed at a MiraCosta group exhibition, is both sublimely eerie and a gorgeous representation of Westra's artistic outlook. While it's experimental in nature, the piece is also profoundly intentional in the ways in which it's meant to honor the Indigenous communities of California, who historically used controlled burns as a method of forest stewardship before it was outlawed in the 1850s.
"Simultaneously, this practice of clearing and releasing the old, dry, dead growth resonated with me deeply on a psychological level," Westra later wrote on her website. "I find myself constantly being reminded to let go. Like a controlled burn, I learn to practice releasing old thought processes that no longer serve me."
Westra's work, intentionally or not, also often works within ecological and nature-based themes as a means to convey very humanistic emotions and issues. For example, there's "Tools for Reckoning," a piece meant to address the feeling of "staying in a relationship beyond its natural end," but does so via two ceramic mourning doves nailed to the wall with a bench below displaying the hammer and a pile of nails.
"I'm definitely interested in exploring the archetypes that exist in nature, how they reflect in me," Westra says. "When I see cycles or things that are occurring within nature, I want to use them in ways that help me process what's going on within me internally. I think that comes through in my work."
Westra grew up in a multiethnic family who had to move around a lot because her father was in the military. When her family relocated to San Diego in 2009 from a lakeside town in Michigan, she says she was immediately inspired by her new environs and credits her mother for instilling in her an appreciation for creativity and practicing art.
"Growing up, my father would be on deployments, and my mother was pretty much raising me and my brother," recalls Westra, who also attended Canyon Crest Academy, an arts-focused public high school in Carmel Valley. "She's an abstract painter so she gave us that sense that there are no rules, that you can do whatever you want."
With what her mother instilled in her early in life, and reignited by her experience at MiraCosta College, Westra's diligence in pursuing art is beginning to pay off.
She has curated and participated in a variety of group shows and has shown work at juried exhibitions at prestigious spaces such as the Cannon Art Gallery in Carlsbad and the Athenaeum Music & Arts Library in La Jolla. This has helped her land a job at Quint Projects in La Jolla and an artist residency at Backfence Society, a nonprofit arts space in Vista.
More recently, she transferred to San Diego State University, majoring in sculpture, and plans to use her time at Art Produce to expand her artistic outlook, taking more of a "free association" approach to the work.
"The new work definitely feels more experimental," says Westra, stating that she wants to create something of a "momentum vortex" inside the quaint studio space in North Park. "I feel like I'm at a crossroads and I don't know what direction my work is going to go, but I might use the residency to edge my work more toward sculpture and art with found objects."
Either way, Westra says she's excited to be able to experiment and, what's more, she's excited about her future as a working artist despite the hurdles she may face.
"I have no idea what the end product is going to look like when the residency is done," says Westra, who will host an open house of the work at Art Produce on August 19 from 6 to 8 p.m. "It's kind of exciting and it's also terrifying, but I feel like that's life."
Name: Helena Westra
Age: 23
Born: Holland, Mich.
Fun Fact: When she's home in Escondido, Westra often hikes the trails at nearby Lake Hodges for creative inspiration. "When I go on these walks, I feel grounded and centered," she says. "I feel so comfortable in the San Diego biome and the region. I feel so connected to the land even though we're settlers here. Just having that connection, you want to honor it in artistic ways."
Art opening: 6 to 8 p.m. Aug. 19 at Art Produce, 3139 University Ave., San Diego. artproduce.org
Combs is a freelance writer.