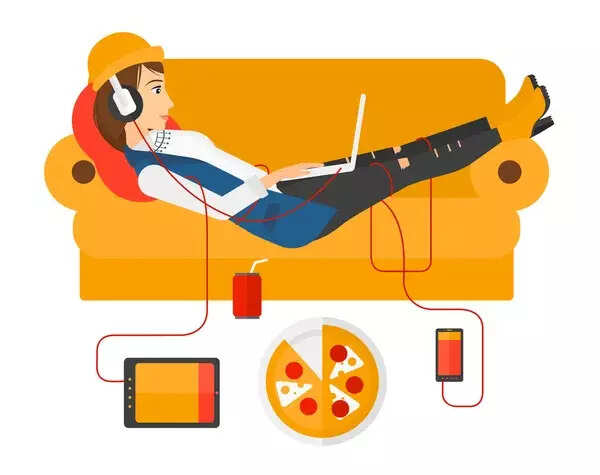 In the past year, we have seen a proliferation of work-related micro-trends spearheaded by GenZs trending on every other platform, right from Quiet Quitting/Firing, Bare Minimum Mondays, Career cushioning, Hustle Culture, or Productivity paranoia. The intention behind making these trends viral has been more or less the same, prioritising oneself enough to step into a new realm of work-life balance and sinking into an anti-pressure life that is free from stress or burnout. People who have touted these colloquial phrases have time and again emphasised the inflexibility to lead and embrace a balanced and free work life. The 'hustle culture' which equates to success in a 'conventional' world is no longer a solution for the modern workforce, a generation that only looks for efficient and smarter ways to get a job done, or even take side hustles for supplemental income.The latest one bucking the trend has been the 'Lazy Girl Jobs', a term that recently took the internet by storm after a Tik Tok user @@gabrielle_judge and a 26-year-old career influencer branded this phrase all over the internet. Understandably, my first reaction to this term was just as disappointing as yours could be. After all, nobody likes a negative or a slacking undertone suggesting how females must lead a lazy life, free from ambition or responsibilities, right? But to my surprise, and far from a critique, the phrase encapsulates a shift from toxic corporate expectations to a more balanced, sustainable approach to work. As the influencer herself says, "Lazy-girl jobs aren't roles where you can slack off, but career paths where your work-life balance should feel so awesome that you almost feel like you're being lazy." Clearly, the trend is sassy but realistic, not to mention how the rising concerns for an unbalanced and stressful work life have been pedaled far too long at the workplace. In a Randstad survey, flexible work is the next frontier for non-office workers and has become key to attracting and retaining workers against the backdrop of global talent shortages. Almost half (46%) consider it as important or more important than pay. The talent would rather want to spend their extra time enjoying with friends or family, getting fit, resting, undertaking a hobby or passion, or caring for other family members, the research added. In Randstad's work monitor survey, a majority of talent in the lead demanded work-life balance (94.7%) and pay (93.8%) as their top priorities. With these findings, we can say that while the demand for flexibility is not considered new, they are definitely branded differently by the emerging workforce every now and then. While 'Lazy Girl Jobs' might be just a trend viral on the world wide web for most of us, there is definitely some food for thought here. It highlights the sheer biases faced by working-class professionals when it comes to pursuing creative or freelance careers or seeking flexibility in a corporate job. For a long time, we have passed several judgments around non-traditional career paths, or even glorified burnout or the 'pick me first' energy at a workplace, nearly forgetting the significance of leading normal yet a thriving career. In contrast to what the term suggests, here is all what 'Lazy Girl Jobs' signifies.
So, before you draw conclusions, let us understand how this newest internet trend is worth the hype, and most importantly, how it challenges the archaic work standards.
https://www.instagram.com/p/Cs5GJHqsK5t/
https://www.instagram.com/p/Cs5GJHqsK5t/
1. Ditching the traditional workplace expectations

The first thing that this trend challenges is a high-pressure workplace or the traditional norms of a corporate workplace. With a significant change in perception towards work, employees are fast replacing the 'pick me first' response with a 'Let me see if I can prioritise this' statement. However, this doesn't make them incapable to thrive in a competitive workspace, but only sets a precedent for a more balanced approach to work. Learning to prioritising is one of the most critical skills that employers look for today, which makes it critical for people to challenge the archaic workplace expectations.
2. Debunking the idea of sticking to one career for a lifetime

The Lazy Girl Era is beyond sustaining a work-life balance. As the influencer captioned, "You don't need to stay at one career track and one company to learn and grow your career. We get to be multi-faceted people where our own success can look unique to us."
Clearly, the world we're operating in is constantly changing and it is not only about shifting companies but also shifting your career choices along the way. For instance, a finance professional might develop a liking for writing content at any time in his career, but his financial growth might be restricted due to a lack of experience. Such ideas need to be embraced and encouraged by employers and companies worldwide. Learning to be dynamic is one of the most important skills that must be valued by everyone in current times.
3. Prioritising smarter/more efficient ways of working

In contrast to the term 'Antiwork discourse', the premise of this trend is not at all asking people to stop working, but instead encouraging the audience to adopt smarter/more efficient ways of doing a job. Learning to be fast but efficient is once again a critical personal skill that people need to work on which not only makes them better at what they do but also allows them the space to become more creative and empowered to take on new roles and challenges.
4. Is the organisation a good fit for you?

https://www.instagram.com/p/Cs7Y97vuRMQ/
https://www.instagram.com/p/Cs7Y97vuRMQ/
While job interviews are mostly employee focused, it is important to note that employees will be spending a major chunk of their day at a workplace which makes it equally critical for them to ask questions. So, if you want to land your next 'Lazy girl job', try asking questions like, how the company manages risks, measures performance, or categorises high-performers. The culture of a company has become indispensable to the employees' personal and professional growth which makes it crucial for candidates to make it an interview standard. A reciprocating interview will only help you understand the organisational dynamics better.