Look, I get it. Sometimes you just need an easy way to make some extra cash.
You don't want to come up with a business idea, figure out how to get clients, or invest a ton of money.
The good news is there are easy side hustles and part-time jobs both online and near you that fit the bill.
I selected the easy side hustles below because they:
Don't require a degree
Have flexible hours — and don't require a full-time commitment
You can start quickly with limited training
Still, there are a couple things to remember when searching for an easy part-time job:
"Easy" is relative! What's "easy" for you may be like a foreign language to someone else. For example, manual labor may be a piece of cake for you, but a physical impossibility for others.
Some jobs may require specialized skills.
1. Delivery Apps
If you don't mind driving, delivery apps tend to pay $10-25 an hour, and you can set your own schedule.
These include:
2. Mystery Shopping
Mystery shopping is a fun way to make some extra money and get to try new things. For example, you can get paid $3-10 to check product displays, verify inventory levels at stores, and sample new products.
The free Field Agent app makes it super easy to find available tasks in your area.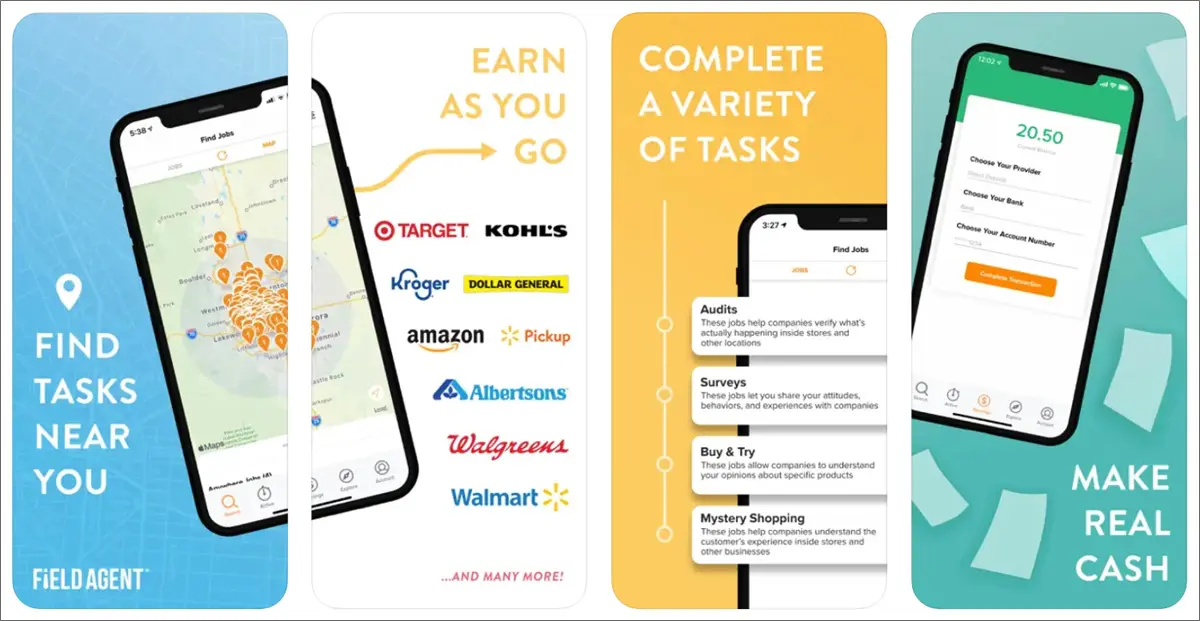 It's hard to piece together a consistent income on Field Agent, but it is a fun way to make some money on the shopping trips you're already making. Check out my full Field Agent app review for more.
3. Pet Sitting
If playing with dogs in your free time sounds like a dream, you should check out Rover.com.
You can create a profile, list your services, schedule, and prices, and start finding clients. According to the site, top hosts are earning $1000/month or more.
4. Virtual Assistant Service
Virtual assistants are remote administrative professionals that help business owners (or even just busy individuals) with a variety of tasks.
Check out companies like BELAY, Time Etc, or Zirtual for potential openings, or set up shop on your own.
If you work through a virtual assistant company, expect to earn $12-18 an hour to start. Freelance VAs charge $20-40 an hour, or more for specialized skills.
5. Mobile Notary Loan Signing Agent
A Mobile Notary is a Notary Public who travels to homes and businesses to notarize documents. Once you know what you're doing and have an attention to detail, it's not overly complicated.
Several listeners have reported earning thousands of dollars a month with their part-time mobile notary business, including Brian Schooley, who first learned about it on The Side Hustle Show podcast.
Loan signing agents are mobile notaries who specialize in notarizing loan documents. Loan signing agents have much higher earning power than Mobile Notary workers.
Of course, there's an upfront investment in education and equipment here, but this is a popular gig among Side Hustle Nation.
To learn more, check out some of the resources at Loan Signing System!
6. Ski Lift Operator
If you live near a ski resort, this could be an easy part-time gig. You're responsible for helping skiers and snowboarders safely get on and off the chairlift, but most of the time I just see the lift ops, or "lifties", chilling in their little hut.
Expect to earn $12-15 an hour.
7. Sign Spinner
If you can overcome the boredom of just watching cars go by, being a sign spinner is pretty easy work. Your job is to advertise for local restaurants, car dealers, or real estate projects … which basically entails standing near a high traffic intersection and spinning a big sign.
Hourly rates are typically between $10-15.
8. Library Page
Shelving books at the library was a great high school job for me. And super easy — if you know your alphabet and numbers, you're qualified!
I worked 8-25 hours a week during evenings and weekends, and because it was technically a government job, I even earned time-and-a-half on Sundays.
9. Online Focus Groups and Surveys
This isn't an income stream you can bank on consistently, but it as an easy and very part-time way to make some extra money.
I've participated in several paid research studies both online and offline, and thought they were fun and interesting experiences. And getting paid made it even better!
My two favorite companies in this space are Respondent and User Interviews. Sign up for both and browse their available studies to see what you qualify for.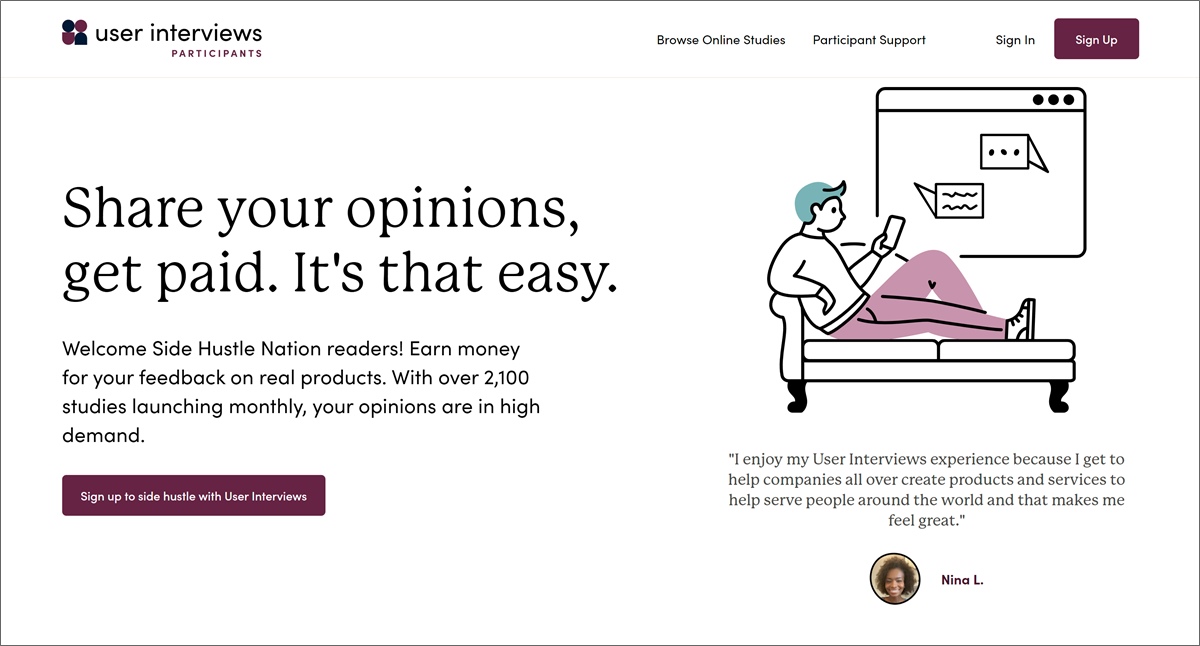 Expect to see rates in the $50-150 an hour range. For more details, you can check out my full Respondent review here and my full User Interviews review here.
For shorter studies, here are some of the top online survey services.
Swagbucks – Earn up to $35 a survey with this mega-popular app, and get a $10 bonus just for signing up!
Survey Junkie – Earn up to $40 a month and cash out beginning at just $5.
Branded Surveys – One of the best-rated survey sites with millions paid out.
Pinecone Research – Earn $3 for each 15-20 minute survey. They'll send you a $3 check after your first one.
InboxDollars – Get a $5 bonus just for signing up!
American Consumer Opinion – Join millions of free members and earn up to $50 per survey.
YouGov – Long-running survey panel, with data often cited in the media.
10. Tutoring
If you were a decent student in school or are a subject matter expert, you could give tutoring a try.
There are many different avenues to tutoring. You could do it by subject or grade level, or focus on test-prep tutoring like Matt Fuentes, who reported building his tutoring business to $1000 a week.
To get a job in tutoring, look for tutoring or test-prep companies near you.
11. Flipping Mattress Returns
Sharetown reps report earning $3,000-$4,000 a month reselling gently-used bed-in-a-box mattresses. How it works is you pick up the items when customers request a return, clean them up, and then relist them on places like Facebook Marketplace.
The company provides some listing and pricing guidelines, and only charges you for the inventory once the mattress sells. If you have a truck and a place to store the items, it's essentially risk-free profit.
12. Parking Lot Cleanup
Ready to pick up some trash?
Side Hustle Show guest Brian Winch shared how he started a parking lot litter pickup business and turned it into a multi-six-figure business. He described it like "getting paid to take a walk."
This could be a very easy way to "pick up" some extra cash, and makes a great side hustle since it usually needs to be done before or after business hours.
To do this on a freelance basis, start by contacting commercial property management services and asking how they handle litter pickup. To do this as a part-time job, look for existing service providers and see if they're hiring.
13. Freelance Writing
Content is a booming industry and has been for the last several years. With more and more businesses engaging in content marketing, it's creating a demand for writers.
Freelance writing is a great way to share your expertise and make money. You have full control over your schedule (in most cases) and can fit the work in when it works for you.
Set up shop on your own, or apply with any number of companies actively hiring freelance writers.
14. Bookkeeping
OK, if you're number-phobic this probably wouldn't qualify as easy, but for others it could be a great. Part-time remote bookkeepers can earn $20-70 an hour.
This option is best people with an accounting background from school or your day job, or if you just love math.
You can work from home and have the flexibility to take on as much or little work as you want.
To go the freelance route, here's a free training on how to get started. Otherwise, you can browse these open positions to join an existing company.
Have you ever dreamed of being in a movie?
One potentially easy part-time gig to consider is being a movie extra. And you might even have a brush with celebrity!
Movie extra jobs typically pay minimum wage, but make up for the low pay with the Hollywood "coolness" factor of being able to say you were in a movie.
16. Self Storage
The Neighbor.com self-storage platform connects people with storage needs with those who have extra space. If you've got some excess storage capacity in your garage or elsewhere, list your space here to fill it and get paid.
According to the site, top hosts are earning up to $10,000 a year running their own mini self-storage operations!
This is a great way to earn some passive income while pursuing some of the other suggestions in this article. Check out our full Neighbor review to learn more.
17. Proofreading
Do you love words? Are you always correcting your friends' grammar?
Proofreading may be the perfect job for you. According to PayScale.com, proofreaders can make an average of $12-$30/hour.
Check out companies like ProofreadingServices.com to apply for a remote part-time or full-time position.
18. Mechanical Turk
Earn a small fee ($0.01 to $3) for each micro-task you complete on Amazon's Mechanical Turk.
It can be tedious work, but over the last few years, Mike Naab earned over $50,000 on Mechanical Turk in his spare time completing surveys and other small jobs!
19. Pet Waste Removal
Cleaning up dog poop is probably a pet owner's least favorite task.
Because of that, it turns out lots of pet owners happily pay someone else to do it — especially if you live in a colder climate.
By starting her own pet waste removal business, Erica Krupin of Michigan shared how she was able to earn an effective hourly rate of $50 an hour!
If you don't want to deal with starting your own company, look for other pooper scooper companies near by to see if they're hiring.
20. Transcription
Transcribe interviews and lectures on Rev.com and earn $9 an hour and up. Fast freelance transcriptionists can earn more though; as this free mini-course explains.
This is a great job that can fit into little pockets of time that you have available.
21. Inspections
There are many different scenarios in which employers, companies, and consumers need to verify the information. An easy way for them to do this is to tap into the gig economy and combine it with technology to provide the information they are looking for.
Professional "lookers" are earn $18 to $200 to go look at stuff like eBay purchases, cars, rental properties, or even vacant lots with WeGoLook.
Take pictures, verify information, and report back what you find.
22. Flyer Delivery
One Side Hustle Show listener told me about his easy part time job delivering flyers door-to-door. He started by offering to distribute flyers for a local business … but then realized it really wouldn't be any more work to drop off 3 or 4 flyers at each house!
That little realization 3-4x'd his effective hourly rate. In this case, he really loved taking walks and this was a great way to get paid to do it.
23. Real Estate Agent
Real estate agents are paid on commission so your potential to earn depends on how much your work and how many houses you sell.
This article walks through the process of becoming a real estate agent, which involves:
taking a licensing course
passing an exam
activating your license
joining a brokerage
According to Real Estate Express, real estate agents who work less than 20 hours a week still earn an average of $24,000 a year.
24. Brand Ambassador
Many companies hire part-time brand ambassadors to help staff events or other promotions. These gigs can be a fun and easy way to make some extra cash in the evenings or on weekends.
25. Handyman Services
If you're handy and like to fix things, offering your services can be a great flexible part-time job. Sites like TaskRabbit make it easy for you to list your services and your rate and help people in your area.
TaskRabbit workers report making anywhere from $8 to $43 an hour.
26. Cleaning
Cleaning jobs can have a wide range of opportunities. If you want to work during the day, you can clean residential homes. If you're looking for something after normal business hours, commercial cleaning might be a fit.
Check out well-established cleaning companies nearby to see if they're hiring, or take a look at national services like Handy.
This is a pretty flexible job with no degree required. And as a bonus, you can listen to your favorite podcast while you work!
Starting your own cleaning business can bring in anywhere from $30,000 to $50,000 a year according to Cleaning Business Boss.
27. Childcare
As a parent of two energetic boys, I'm not sure how "easy" this one is, but I guess it's in the eye of the beholder.
That said, quality childcare is always in-demand. You could provide after-school care at your home, or babysit other children..
If you enjoy being around kids, this could be a great part-time job. Rates can depend a lot on where you live, but you can expect to make in the range of $12 to $25 an hour.
28. Elder Care
Similarly, an aging population is creating an opportunity in elder care. Sites like Care.com can help match you with customers, or you can look for part-time jobs at assisted living facilities nearby.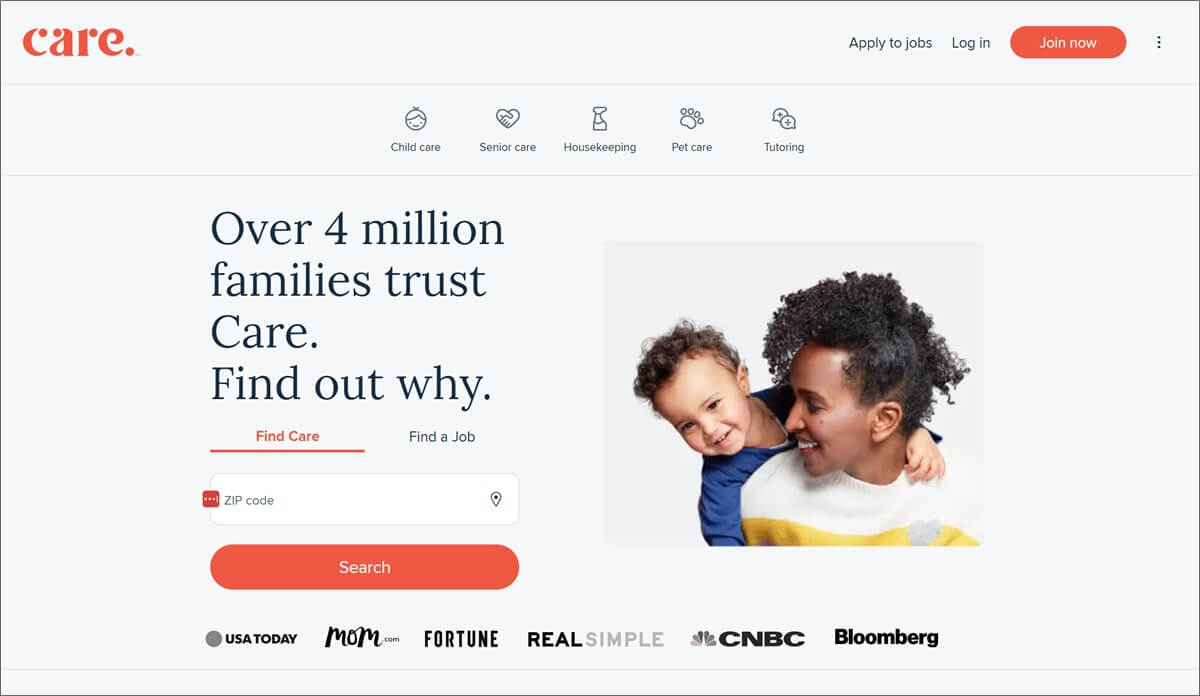 29. Personal Training
Certification is required for this one, but if you have a passion for fitness, helping others get in shape could be an easy job for you.
Check with your local gyms or fitness centers to learn more about pay rates and any part-time openings.
30. Ridesharing
"When I want to make money, I turn on the app," my Lyft driver explained on a recent trip.
As a passenger, the convenience factor is tough to beat, and this is a simple, flexible part-time side hustle for drivers.
If you enjoy driving and meeting new people, driving for Lyft or Uber is an easy part-time job.
The downside? According to MarketWatch, Uber drivers only make an average of $8-$11 an hour after platform fees, gas, and taxes.
31. Search Engine Evaluator
Search engines may seem magical in that they know all the answers to our questions, but there's a reason they've gotten so good.
Yes, programming obviously has a lot to do with it, but they also have real people evaluating the searches that are being brought back to make sure they are relevant.
There are a number of different companies that hire search engine evaluators. Most have a bit of a hiring process so this isn't something you can start doing immediately. It can be a great job to work from home thought if you can get hired.
Expect to earn $12-16 an hour.
32. Customer Service
Think about all the different websites you visit on a given day or week? It's probably quite a few. Pretty much any website you visit on the internet is going to have some kind of customer service in place. The bigger the business the more likely they hire people to help serve their customers.
Customer service can come in the form of phone, email, or live chat support. Most companies are willing to train you in their processes so while some experience may be necessary, it may not also be a deal-breaker.
The downside to this role is that you will most likely have a pretty regular schedule to stick to. If you don't mind and want regular work at regular times, this could be a great opportunity. If you are wanting a job that you have more control over the flexibility to work, then this might not be a great fit.
Customer service representatives make an average of $10 to $19 an hour, though this will depend on the company.
33. Laundromat Attendant
Laundromat attendants make sure the machines are working, answer questions, and keep the facility clean. When everything's running smoothly, there's a lot of down time to catch up on reading, homework, or maybe even start another side hustle.
Check with the laundromats near you to see if they have any open part-time positions.
34. Mock Juror
Companies like Online Verdict pay $20-60 per hour to review case information and say how you'd rule. That sure beats real jury duty, but gigs are most likely one-off assignments rather than a consistent weekly schedule.
You must be over 18, be a US citizen, and have a felony-free past.
35. Data Entry
Data entry work isn't the most exciting gig in the world, but it's not overly complicated. If you have an attention to detail and can follow directions, this can be an easy way to earn $10-20 an hour.
Check out Indeed.com for up-to-date openings, where you can filter by part-time, full-time, and even remote.
4 Places to Find Easy Part-Time Jobs
You probably already have an idea of the kind of work you find easy and the kind of work you find difficult, but if not, it might make sense to ask yourself some questions like:
What types of jobs and tasks do you enjoy?
When do you feel like you're in a state of "flow" — when time seems to fly by?
What do you find easy that other people find hard?
Keeping in mind that "easy" is relative, here are Side Hustle Nation's most popular easy part-time jobs.
Ready to find a part-time job near you? Here are our favorite places to look.
1. Steady
Steady is a cool app and website that consolidates all sorts of "gig economy" opportunities. For example, you can find work from home gigs, flexible "anytime" options, and even regular full- and part-time jobs.
In browsing through the listings, I found a number of local opportunities in brand ambassadorship, political advocacy, mystery shopping, transcription, and more.
(Steady also promotes a variety of better-known "gig economy" apps.)
Steady acts as a portal to all these gigs and gives you a convenient central location to browse. After you create your account, you'll be able to see everything available online and in your local area.
2. FlexJobs
FlexJobs is the leading site for work from home jobs. With more than 50 career categories, you're sure to find options here that match your expertise.
FlexJobs does charge a nominal monthly fee (save 30% w/ promo code FLEXLIFE) to access their listings, but you'll easily earn that back — and then some — with just one job.
Pro Tip: Before you join, use their job search filter to see what part-time positions are currently being advertised for.
When you see something that's a great fit, you can join the site to apply.
3. LinkedIn
LinkedIn is a great source of jobs, and not just the full-time, career-oriented variety. If you've already created your LinkedIn profile, you can start searching for jobs in your area of expertise:
If you're new to LinkedIn, you can join the 900 million members by creating an an account and filling out your work history. After that, you can start making connections and searching for jobs.
4. Craigslist
Yes, you read that right. The same site you may be finding items to resell is also a site that you can use to find jobs in your area or remotely.
To start, find your closest area and start clicking through the jobs or gigs section to see what is available.
Pro Tip: If you're interested in a remote job, try searching in bigger cities. They'll usually have more options.
Easy Side Hustles: Next Steps
There are tons of opportunities to find an easy part-time job!
Before you get too deep in your search, consider answering these questions:
How much time do you have to invest?
What type of work do you enjoy the most?
Do you prefer something online or in-person?
How much would you like to earn?
Answering these questions will help start you down the path of discovering the right part-time job for you.
Have you tried any of these "easy" side hustles? Let me know in the comments below.
Pin it for later: