Data shows that Bitcoin holders have recently remained hesitant, as the market sentiment has been neutral for over three weeks.
Bitcoin Fear & Greed Index Continues To Point At Neutral Sentiment
The "fear and greed index" is a metric that tells us about the general sentiment among the investors in the Bitcoin and wider cryptocurrency market. This indicator finds this sentiment after considering factors like volatility, volume, social media analysis, market cap dominance, and Google Trends.
The metric represents this sentiment using a numeric scale from zero to a hundred. All values of the index below the 46 mark imply the presence of fear in the market, while those above 54 suggest the majority sentiment is one of greed.
The in-between region (the values between 46 and 54) signals a neutral mentality among the traders. Besides these three main sentiments, there are also two special ones, "extreme fear" and "extreme greed." Historically, both these sentiments have held great importance for BTC.
The former takes place at values under 25, and major bottoms in the asset have usually taken form inside this zone. Similarly, tops have occurred while the market has held the latter sentiment, corresponding to the index's values above 75.
According to Alternative's fear and greed index, here is what the sentiment in the Bitcoin market looks like right now.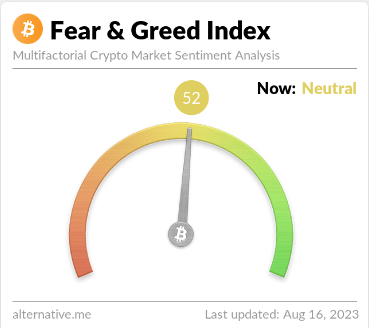 The market seems to share a neutral sentiment currently | Source: Alternative
The Bitcoin fear and greed index has a value of 52 right now, which means that the market is evenly split currently, leading to the sentiment as a whole being neutral.
However, today's index values aren't anything new in the current market, as the indicator has been inside this narrow territory for a while now. The chart below shows how the value of the fear and greed index has changed over the past year.
The value of the index appears to have been moving sideways recently | Source: Alternative
The graph shows that the Bitcoin fear and greed index has been consolidating sideways inside the neutral territory for over three weeks, which isn't what commonly happens.
This unusually long stay in this region showcases how undecisive the investors have been. Perhaps because of this neutrality, the BTC price has also been stuck inside a tight range for quite a while now.
It remains to be seen whether the investors can finally pick a side in the coming days, leading to some less stale price action, or if they will continue to be undecided and the market boredom will continue for a while longer.
BTC Price
At the time of writing, Bitcoin is trading around $29,100, down 2% in the last week.
BTC has seen some decline during the past day or so | Source: BTCUSD on TradingView
Featured image from Kanchanara on Unsplash.com, charts from TradingView.com, Alternative.me