I recently earned my first $116.33 sharing my opinion on FocusGroup.com. Since people are always asking me about easy side hustles, I put together this FocusGroup.com review to share how it all works!
In this post, I'll share:
My experience with FocusGroup.com
How to maximize your FocusGroup.com earnings
Alternatives to consider
Ready? Let's do it!

FocusGroup.com Review




Sign-Up Process




Hourly Earning Power




Gig Availability




Ease of Use
FocusGroup.com Summary
FocusGroup.com is a legit provider of paid online surveys, focus groups, and market research studies. In exchange for sharing your opinion, you can earn $6-150 an hour. 
Is FocusGroup.com Legit?
FocusGroup.com is a legit provider of paid online surveys, focus groups, and market research studies.
The company is part of Sago, which has been in the market research business since 1966. Sago (formerly Schlesinger Group) operates 16 offices around the United States and 10 more in other parts of the world.
How Much Can You Make on FocusGroup.com?
On FocusGroup.com, you earn points for completing brief online surveys and longer market research discussions and studies. In exchange for sharing your opinion, you can earn $6-150 an hour. 
It's quite a broad range, and I'll share some of my strategies to maximize your earnings below.
Potential to earn $50-100/hr+
Cons:
Can only redeem for gift cards
Frustrating online interface
Have to avoid low-paying surveys
How Much Are FocusGroup.com Points Worth?
FocusGroup points are worth $0.01 each.
Put another way, it takes:
100 points to earn $1
1,000 points to earn $10
10,000 points to earn $100
As a general rule, online survey companies use these points systems to obscure the true value of the surveys.
But all you have to do to outsmart them is some simple math. To calculate the effective hourly rate:
Take 60 and divide it by the estimated minutes the survey will take
Multiply the result by the number of points you'll earn
Divide that result by 100 to see the "dollars per hour"
When you do this, you'll start to see that many surveys on FocusGroup.com pay as little as the equivalent of $6 an hour — way below minimum wage!
Which brings me to the next point — deciding which surveys to focus on.
The 3 Types of Surveys on FocusGroup.com
The first step to get started on FocusGroup.com is to create your account. The site will walk you through a questionnaire of demographic and other questions to set up your personal profile.
Once complete, you're ready to start earning.
When you log into your FocusGroup.com dashboard, you'll see 3 tabs under the "Surveys" menu option:
Online Surveys
Interviews & Focus Groups
Other Study Offers
1. Online Surveys
On the Online Surveys tab, you'll see a feed to different surveys you can take.
Some will ask a few pre-screening questions, and others will let you dive right in. Some — confusingly — will immediately bring up a screen saying you don't qualify.
Then why'd you show it to me?!
Before you apply to any of these, I recommend doing "effective hourly rate" calculation I mentioned above, because the rates can vary wildly.
In fact, in my Online Survey feed, I had options paying $47-60/hr … right alongside the $6/hr options.
2. Interviews & Focus Groups
Your best-paying options on FocusGroup.com are under the Interviews & Focus Groups tab.
These are in-person and remote studies that typically pay $100-200/hr!
I received an email invitation for one of these, and earned $115 (worth of points) in about 45 minutes — for an online survey.
Both of the options shown in my account in the screenshot above are for in-person discussions 20-30 minutes away from my house. You can decide whether or not the travel-time makes that worthwhile for you.
3. Other Study Offers
The third tab is labeled Other Study Offers, and I'm not sure how these are different from the "Online Surveys" tab.
In my dashboard, these ranged from $8-26/hr in earning power.
I attempted the $26/hr one, and was immediately greeted with the "not qualified" screen. At least I didn't have to answer a long screener survey before they let me know!
However, I was able to complete the $20/hr one, and saw those points deposited into my account right away — though it took a bit longer than 4 minutes.
Redeeming Your FocusGroup.com Points
To redeem your FocusGroup.com points, navigate to the FocusGroup Wallet section of the website.
Annoyingly, they make you re-enter your password every time you go to your Wallet … despite the fact you're already logged in.
Weird.
Whatever.
Once you're in, you'll see your:
Current point balance
Redemption history (you can see my $115 Amazon gift card in the screenshot below)
A link to the Virtual Incentives gift card marketplace
FocusGroup.com allows you to redeem your points for gift cards to:
Amazon
Apple
Best Buy
Dunkin Donuts
eBay
Fandango
Google Play
Starbucks
Target
Uber
Walmart
I always choose the Amazon gift card option, because I can easily add it to my account and know I'll spend it sooner rather than later.
But if those stores aren't your jam, you can also redeem for a physical or virtual Visa debit card.
At press time, cashing out to PayPal, Venmo, Zelle, or direct deposit to you bank are not available.
It looks like there's a 100 point, or $1 minimum, required to cash out, and you must do so in whole dollar increments.
My $115 FocusGroup.com Online Survey
The online study I completed was specifically for Seattle-area residents. It was supposed to take 90 minutes in exchange for that $115, but I was able to work through the questions in about half that time.
And that was somewhat surprising — it was a self-paced online questionnaire, not an interview of focus group discussion.
In my case, it involved sharing my opinion about a well-known local company and giving feedback on a series of upcoming ads they planned to run.
It was super easy, interesting, and rewarding — especially for a $150 equivalent hourly rate.
The other weird thing was I got multiple phone calls prior to my study to confirm my participation and verify my answers to a few questions. It wasn't a huge deal, but I didn't answer because I didn't recognize the number, and it was tricky to find a good time to call them back.
After completing the study, it took a few days for the 11,500 points to get added to my account, and then another couple days for my Amazon gift card to "process."
I thought that was pretty lame because some other sites and apps process rewards immediately.
Still, in the end I got paid well for some pretty easy work.
FocusGroup.com Best Practices
As with any online survey company, it's always best to answer honestly — not with what you think the researcher wants to hear.
In addition to my advice above about calculating the expected hourly rate for each survey, you'll want to pay close attention to the emails you get from FocusGroup.com.
The first variety, I universally ignore. These come through with the subject line "You have a new survey opportunity (on Desktop, Mobile & iPad)".
They advertise the kind of low-paying surveys often found in the first tab of the online dashboard.
The second type of email from FocusGroup.com is worth your attention.
Those often come from Sago (not Focus Group), and the subject line usually begins with "You're Invited".
Routing these emails to your inbox is crucial, since high-paying studies fill up fast. (And that way you don't have to stay logged into FocusGroup.com in the hopes of a good one popping up.)
FocusGroup.com Alternatives
If you don't care for FocusGroup or are having trouble being selected for projects, fear not!
The good news is there are other market research companies where you can make decent money as well.
User Interviews
User Interviews specializes in one-on-one market research interviews, mostly done over the phone or online.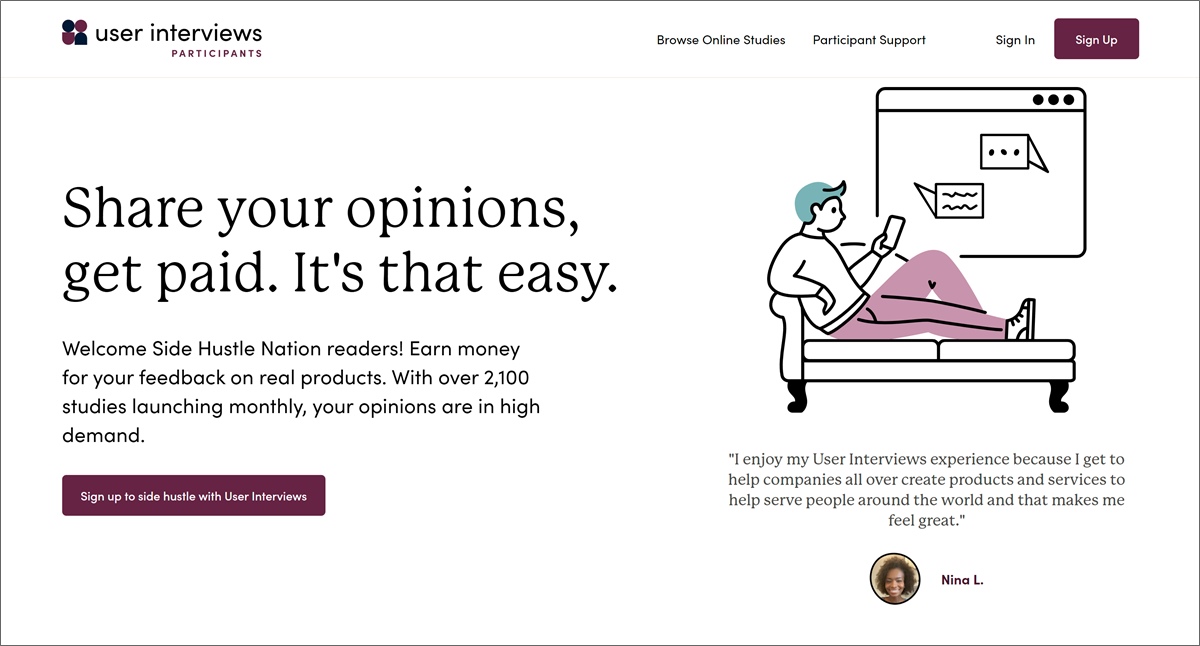 The average rate of pay is in the ballpark of $100 an hour. I've earned $105 for about an hour and a half worth of "work" so far.
Check out my full User Interviews review for more.
Respondent
Respondent helps match you with one-on-one market research interviews, mostly done over the phone or online.
According to the site, the average payout is over $100 an hour. Check out our full Respondent review for more.
(I got paid $190 for a 2-hour in-person focus group … that involved playing with Legos!)
Rare Patient Voice
A leading source for medical research, Rare Patient Voice pays participants $100 an hour. Most of the studies are phone or webcam interviews, and you can browse a full list of available studies on their site.
If you suffer from any sort of medical condition (even if it's not super rare), I think this one is worth a look.
Lightster
Lightster is a unique money making app, where you get matched with brands and researchers based on your profile.
After you complete your profile, you may see some questions pop up in the app. Answer those to qualify for paid research conversations that pay $1 per minute.
I got invited to my first half hour session within a couple weeks of downloading the app, and got paid (via Amazon gift card) right away.