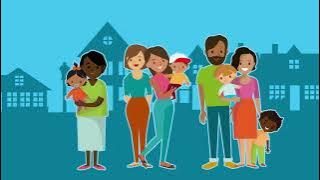 With up to £1200 available in grants, a new animation has been released by Warwickshire County Council to advise and support any residents to become childminders.
With more people returning to physical workplaces on a more regular basis, the need for quality childminding has increased with more opportunities than ever to combine a rewarding career with the flexibility to manage family life.
Childminding is a rewarding and flexible career, which allows people to work from home as their own boss while providing essential high-quality care and education for younger children.
Now is a great time to begin the journey of becoming a childminder as with the launch of the new Childminder Grant Scheme, new childminders will receive a £600 grant for registering with Ofsted and a £1200 grant for registering with a childminder agency. This is available to any individual who has completed their childminder registration on or after 15 March 2023 and can be applied for from Autumn 2023.
Find out more in this new animation:
https://www.youtube.com/watch?v=/MS0TIJba2aw
Any residents who enjoy working with children and have a home that's suitable for childcare are encouraged to consider choosing this rewarding profession. To become a childminder, residents should:
Have a suitable space for children to play, learn and grow, including access to regular outdoor learning such as a secure garden or play area; and

Need to be able to provide activities and learning opportunities that are appropriate for the children in their care.
To support new childminders, Warwickshire County Council is offering advice and support to help people through the process of becoming a childminder from business and financial considerations to achieving their successful registration.
New government grants are available directly from central government in the autumn of 2023 – £600 for Ofsted registered child minders and £1200 for anyone that registers with a childminding agency.
Cllr Kam Kaur, Warwickshire County Council Portfolio Holder for Education, said: "Being a childminder is a rewarding job that can make a real difference in the lives of young children, providing the building blocks for future learning and education whilst enabling the childminder to continue to care for their own children in the home.
"We're offering this package of support because we want to encourage more people to consider becoming childminders and to join the county council in our mission to provide the best possible education and start in life for our children."
The Warwickshire County Council website has more information on how to become a childminder, including details on the training and support available: https://www.warwickshire.gov.uk/childcare/become-childminder